French soldier killed in Afghanistan
Date and Time:11 January 2010 - 14:53 -
Print This Post
Share
Tweet
Takip et: @_TurkeyNews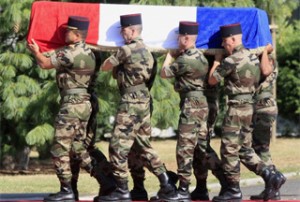 A French soldier has been killed and another has been seriously injured when their patrol was attacked by insurgents in northeast Kabul.
French authorities confirmed the death, which resulted form a Monday attack in Alasay valley.
The death brings to 37, the number of French soldiers killed since the 2001 US-led invasion of the country.
France has 3,300 troops in Afghanistan serving in NATO's mission in the country.
Earlier in the day, three US servicemen died during a fight with insurgents in southern Afghanistan, NATO-led forces said in a statement.
More than a dozen foreign troops, including nine Americans, have been killed in Afghanistan so far this year.