Another French soldier falls in Afghanistan
Date and Time:13 January 2010 - 15:14 -
Print This Post
Share
Tweet
Takip et: @_TurkeyNews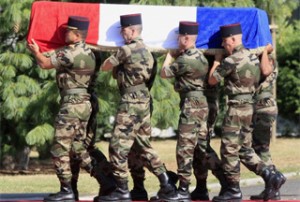 A French soldier has been killed and two others have been seriously injured when their patrol vehicle was targeted by a roadside bomb in volatile eastern Afghanistan.
The French military said in a statement on Wednesday that their convoy was hit by an improvised explosive device when they were travelling between Bagram and Nijrab northeast of Kabul.
This was the third death suffered by French forces serving in the war-weary country in 2010. Thirty-nine French troops have died in the country since the US-led invasion of Afghanistan in 2001.
On Monday, an attack on French forces in northeast of Kabul left one dead while a second soldier died of injuries one day later.
France has 3,300 troops in Afghanistan.