Wave of Zionist violations against Al Aqsa
Date and Time:17 February 2010 - 8:33 -
Print This Post
Share
Tweet
Takip et: @_TurkeyNews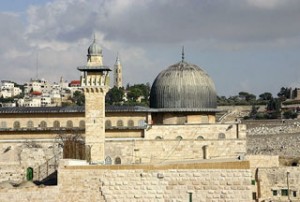 Dr. Ahmed Abu Halabiya, the head of Al-Quds international institution – Gaza branch, said Tuesday that there is a new wave of serious Zionist violations that started two weeks ago against the occupied city of Jerusalem, its people and holy sites.
In a statement, Dr. Abu Halabiya said that Israel issued recently dozens of demolition orders against Palestinian homes, apartments and shops and carried out intensive arrest campaigns in the holy city especially in Shuafat refugee camp.
He pointed to the Zionist assaults on journalists and the underground excavations which caused serious fissures in the walls of the Aqsa Mosque and Al-Marwani mosque in addition to the arrest of religious Jerusalemite figures and the prison sentences issued against them for their role in defending the holy Mosque.
Abu Halabiya warned of a Zionist plan to consider the entire Old City of Jerusalem a construction area where no one is allowed to build except the Jews in addition to imposing severe restrictions on renovating the Aqsa Mosque.