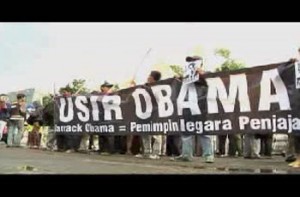 Members of an Islamic group in Jakarta on Friday in a gathering in front of US Embassy in Indonesia protested against the US President Barak Obama's visit to the country.
The demonstrators called the Indonesian government not to receive Obama, IRIB reported.
The protestors also called on the American officials to withdraw US troops from Afghanistan.
Zein al-Abedin one of the protestors said that Obama has received Nobel Prizes while he was a complicit of killings in Afghanistan.
"After receiving the prize, he dispatched 30,000 troops to Afghanistan," he added.
The demonstrators chanted anti-US slogans. They also chanted Obama is the enemy of Muslims.