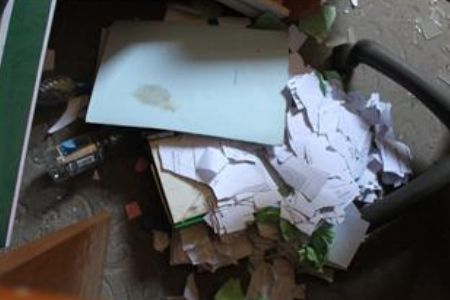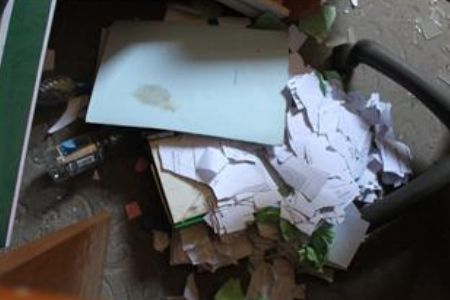 Secret documents found at Libya's intelligence agency show that influential US politicians advised Muammar Gaddafi on how to tackle the country's popular revolution.
In a report posted on its website on Wednesday, Al Jazeera claimed it had gained access to secret documents in the Tripoli headquarter of Libya's intelligence agency, showing direct communications between the Libyan regime and influential figures in the US.
The papers appeared to be the minutes of a meeting between former Assistant Secretary of State David Welch, the man who brokered the deal to restore diplomatic relations between the United States and Libya in 2008, and two senior Libyan officials, Al Jazeera news producer Jamal El Shayyal said in his account of his visit to the building demolished in NATO attacks.
The files reportedly showed Welch met with two Libyan officials, Abubakr al-Zleitny and Mohammed Ahmed Ismail on August 2, 2011, at the Four Seasons Hotel in Cairo, just a few blocks from the US embassy, where Welch advised Gaddafi's team on how to win the propaganda war through a number of "confidence-building measures."
Welch also advised Gaddafi on how to overcome Libya's rebel movement with the potential assistance of foreign intelligence agencies, including Israeli spy agencies, and through linking the leaders of the popular protests to al-Qaeda terrorists.
"Any information related to al-Qaeda or other terrorist extremist organizations should be found and given to the American administration but only via the intelligence agencies of either Israel, Egypt, Morocco, or Jordan… America will listen to them… It's better to receive this information as if it originated from those countries," Al Jazeera cited the documents as saying.
Welch reportedly also proposed that Gaddafi should step aside" but "not necessarily relinquish all his powers," saying many in the US administration would support the solution — which clearly contradicts repeated calls from the White House urging Gaddafi's removal.
According to the document, Welch concluded the meeting by pledging "to convey everything to the American administration, the Congress and other influential figures."
But what is more is Welch seems not the only prominent US personality to have offered help to Gaddafi.
In his report, El Shayyal cited another document, apparently a summary of a conversation between US Congressman Dennis Kucinich, who publicly opposed US policy on Libya, and an intermediary for Gaddafi's oldest son Saif al-Islam.
The congressman reportedly urged for information he needed to lobby US lawmakers to suspend their support for the Libyan National Transitional Council (NTC) and halt NATO airstrikes against Gaddafi forces. Kucinich also wanted evidence of corruption within the NTC and any possible links among the revolutionary ranks to al-Qaeda.
The document also provides a list of specific information required to defend Saif al-Islam, who is currently listed by the International Criminal Court as one of the most-wanted men.
Welch has reportedly declined comment on the revelations, but a spokesperson for the US state department distanced Washington from Welch's comments, describing the former official as "a private citizen" who was on a "private trip" and did not carry "any messages from the US government."
Kucinich also issued a statement to the Atlantic Wire rejecting the document found by Al Jazeera as "written by a Libyan bureaucrat to other Libyan bureaucrats."
"All it proves is that the Libyans were reading the Washington Post… I can't help what the Libyans put in their files… Any implication I was doing anything other than trying to bring an end to an unauthorized war is fiction."