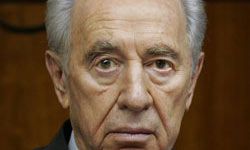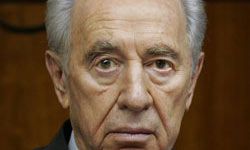 Iranian students in an open letter to Judiciary Chief Ayatollah Sadeq Amoli Larijani called for filing a lawsuit against Israeli President Shimon Perez and other Zionist officials for sponsoring international terrorism.
"…we as (the Iranian) students expect you to lodge a complaint with international circles and courts against such evil people as Shimon Perez, Benjamin Netanyahu, Gabriel Ashkenazi, Meir Dagan, Tamir Pardo and Tzipi Livni as terrorists and war criminals who play a key role in the assassination and massacre of human beings and call for their open trial," the Iranian students said in a letter written by 52 Associations of Muslim Students to the Iranian Judiciary Chief.
The letter also admired the Judiciary for issuing a death sentence for the Mossad-affiliated terrorist who assassinated an Iranian nuclear scientist last year, and said this was the least job that the Iranian Judiciary could do against the terrorists hired by the Israeli spy agencies.
Majid Jamali Fashi had pleaded guilty to murdering Massoud Ali-Mohammadi in January 2010.
The trial of Majid Jamali Fashi was held in Tehran in August.
Ali-Mohammadi's family had asked for a death penalty for Jamali Fashi for his direct role in the assassination of the nuclear scientist.
Tehran's Public and Revolution Courts Prosecutor Abbas Jafari Dolatabadi had earlier announced that Jamali Fashi had been trained in Mossad's military bases.
"The suspect in this case, named Majid Jamali Fashi, had traveled to Israel several times and had received the necessary trainings for the assassination in Mossad's bases," Jafari Dolatabadi said.
He also stated that Jamali Fashi had received $120,000 from the Zionist regime to carry out the assassination and then returned to Iran.
Majid Jamali Fashi said in his confessions aired by the Islamic Republic of Iran Broadcasting (IRIB) on January 11, "I became acquainted with a number of Israeli officers on the Jerusalem-Tel Aviv highway after we had a visit to Israel and I received different training courses, including chasing, running, counter-chasing and techniques for planting bombs in a car."
The terrorist added that he had also been trained in that Israeli garrison how to carry out bomb attacks while riding a motorcycle.
Jamali Fashi also said that he had received psychological and operational briefings for assassinating Dr. Ali Mohammadi and had exercised the bombing plot for killing the Iranian scientist several times at the Israeli garrison.
He also mentioned during his confessions that small models of Dr. Mohammadi's house and his house surroundings were used during his training course.