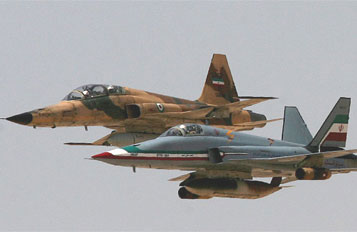 As Iran begins the main and final stage of extensive aerial maneuvers, a senior Iranian commander says the aerial drills aim to defend the country's territory and the Islamic Revolution, Press TV reports.
The Islamic Republic of Iran Air Force (IRIAF) started the maneuvers dubbed "Fadaeeyan Harim Velayat 3" (Defenders of Velayat Sanctuaries 3) in the northwest Iranian city of Tabriz on Tuesday.
"We want armed forces that are swift in action. We want armed forces that are efficient and mobile," spokesman for the drills Hossein Chitforoush said on Tuesday.
He added that Iran has managed to eliminate points of weakness by making use of the most advanced techniques and tactics.
"One of them is to use our capacities for placing ambush for enemies and our efforts must always be prepared for surprise attacks," he stated.
Chitforoush stressed the importance of making use of "simplicity" as amongst strategic principles, saying, "This is something that will be used in the course of the aerial drills."
"Today, Iranian specialists have managed to manufacture bombs and accomplish serious and dangerous tasks. These bombs that we had already been using previously have turned into smart bombs," the Iranian commander pointed out.
He said that all the missiles and bombs which are used in the aerial drills have been designed and manufactured by Iranian experts.
The maneuvers seek to prepare the ground for Iran's fighter jets to achieve and destroy mock targets, Chitforoush concluded.
The drills included the Saeqeh domestically-built fighter as well as F-4, F-5, Mig-29 and Sukhoi-24 fighter-bombers and the C-130 transport plane.
The fighters are equipped with smart bombs, laser and thermal missiles with various ranges to hit fixed and mobile targets.