Commander: Iranian Army among Strongest in World
Date and Time:15 April 2012 - 17:02 -
Print This Post
Share
Tweet
Takip et: @_TurkeyNews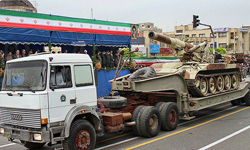 A senior Iranian commander stressed the Army's capability to supply its military needs, and said Iran's Army is amongst the most powerful forces in the world.
Speaking to reporters on the occasion of Iran's Army Day (April 17), Commander of the Army's Western Operation Command General Amir Manouchehr Kazzemi said, "…today, the Army of the Islamic Republic of Iran is among the most powerful armed forces of the world."
"The Army of the Islamic Republic is not all dependent as far as military tools and equipment are concerned, and that is the result of the presence of expert personnel," Kazzemi stated.
Iran has taken wide strides in designing and manufacturing different types of light, semi-heavy and heavy weapons, military tools and equipment. Tehran launched an arms development program during the 1980-88 Iraqi imposed war on Iran to compensate for a US weapons embargo. Since 1992, Iran has produced its own tanks, armored personnel carriers, missiles and fighter planes.
Yet, Iranian officials have always stressed that the country's military and arms programs serve defensive purposes and should not be perceived as a threat to any other country.
Kazzemi further pointed to the military drills regularly exercised by the Iranian armed forces, and said these wargames are among the most important deterrent factors against enemies' threats.
In February, Commander of the Islamic Revolution Guards Corps (IRGC) Major General Mohammad Ali Jaffari also stressed that the Iranian armed forces are strengthening the country's deterrent power through military exercises.
Speaking to FNA on the sidelines of Valfajr military drills in Iran's Central province of Yazd, the IRGC commander said, "The wargames came after the US threats and aggressions, specially its invasion of the neighboring and regional states."
"In a bid to prevent such aggressions (against Iran) all trainings have been done and all experiences have been reviewed," the commander stated at the time.