Iran's researchers develop nanosensors with quick reactor
Date and Time:16 April 2012 - 20:32 -
Print This Post
Share
Tweet
Takip et: @_TurkeyNews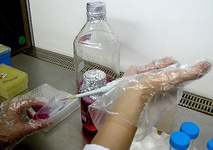 Iranian researchers developed a new method to build gas nanosensors with quick reaction and high sensitivity comparing to those now available in the market.
The researchers of Iran's Material and Energy Research Center jointly with an Iranian professor from the University of Barcelona in Spain succeeded to develop a new method to design and build nanosensors with quicker reaction and high sensitivity with lower price in comparison with other nanosensors.
Using the method of electronic alternating current with low-frequency was introduced by the researchers for developing new nanosensors. The newly introduced method enjoys the capacity to control the layout of nonmaterial used as a sensor material in sensor layers.
Using nano technology in sensors has given a high superiority to the sensors.