Jordanians urge new government to scrap peace treaty with Israel
Date and Time:5 May 2012 - 10:38 -
Print This Post
Share
Tweet
Takip et: @_TurkeyNews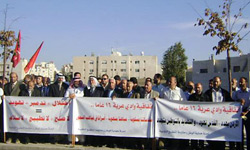 Jordanians have marched in the capital, Amman, to urge the new government to cut all ties with the Tel Aviv regime.
Chanting anti-Israeli slogans, demonstrators on Friday called on new Prime Minister Fayez Tarawneh to expel the Israeli Ambassador to Jordan and scrap the Amman-Tel Aviv peace treaty.
Similar anti-Israeli protest rallies were also held in several other main cities on the 18th anniversary of the peace treaty with Israel.
The rallies were also sparked after Tarawneh, who headed the Jordanian team that negotiated a peace treaty with Israel in 1994, said if given a second chance he would still support the peace treaty.
"We want normalization with the Zionist entity ended and we want the treaty of Wadi Araba annulled," said one demonstrator.
They also burned Israeli and US flags, blaming Washington for providing Israel with diplomatic cover to wage wars in Middle East and continue settlement construction in occupied Palestinian territories.
The demonstrators also demanded political reforms and an end to corruption among government officials.