Sayyed Nasrallah: Imam Sayyed Ali Khamenei and President Mahmoud Ahmadinejad generously accepted funding the reconstruction
Date and Time:12 May 2012 - 9:06 -
Print This Post
Share
Tweet
Takip et: @_TurkeyNews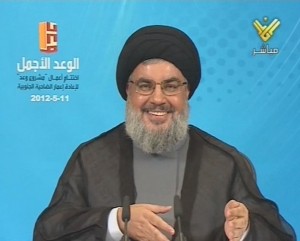 Hezbollah Secretary General Sayyed Hassan Nasrallah reminded Friday of Tel Aviv-Dahiyeh equation indicating that Hezbollah is capable of striking very specific targets in Tel Aviv and in every part of occupied Palestine as well.
"For every building in Dahiyeh, several buildings would be destroyed in Tel Aviv in return. The time when we were displaced and they didn't has gone. The time when our homes were destroyed and theirs remained has gone," Sayyed Nasrallah said, adding that the time when "we will stay and they disappear has definitely come."
His eminence was talking in a ceremony on the occasion of the conclusion of Waed (promise) project to rebuild Beirut's southern suburb (Dahiyeh) which was destroyed after the Israeli July war on Lebanon.
Victory of Reconstruction
Sayyed Nasrallah paid tribute to Hezbollah martyrs who fell during July 2006 war and said "we are celebrating today the victory of reconstruction over the war of destruction."
Concernig the process of reconstruction, Sayyed Nasrallah said: "Before the end of the war, I contacted our brothers in Iran and told them about our decision to rebuild what was destroyed by the enemy. Imam Sayyed Ali Khamenei and President Mahmoud Ahmadinejad generously accepted funding the reconstruction so we started directly after the end of the war." "The Lebanese state is the one responsible for seeking funds from abroad for the reconstruction, but in Lebanon there is a crisis in state institutions because of corruption and bureaucracy," His eminence said, adding: "We are grateful to any Arab country which provided money to the people, and special thanks to the people and President of Iran because without Iran's money we couldn't have reached this accomplishment speedily".
Nahr al-Bared Should Be Rebuilt
Sayyed Nasrallah touched upon Palestine and urged Arab countries to aid the people of Gaza and help them in reconstruction while expressing solidarity with the Palestinian hunger strikers in Israeli prisons. "I call upon Arab governments to take a momentous stand towards the prisoners and refer this issue to the UN security council and not just focus on Syria. We may have differences in opinions on Syria, Iraq, Yemen, Bahrain, or Egypt, but we all agree on Palestine."
"We reject any change that would make the Palestinians in Lebanon a community as part of any deal and we demand they take all their rights as refugees.. We must rebuild the Nahr al-Bared camp, because it symbolizes the right of return and the Palestinian cause which should not be neglected or forgetten."
Al-Khalifa Pushing towards Confrontations
Concerning the Bahraini issue, Hezbollah's secretary general rebuffed the claims that say Hezbollah is pushing toward violence in Bahrain as "lies" and "delusions". "We do not and will not do so. We believe and support what the leadership of the Bahraini opposition, led by Ayatollah Sheikh Issa Qassem, believes in by insisting on peaceful movement. Ultimately Al-Khalifa can not afford to ignore this movement and Allah will make for those faithful who are keen on their unity a way out," Sayyed Nasrallah said, indicating that the Bahraini Regime is the one pushing towards escalation and confrontations.
He also pointed out that the ongoing popular movement in Bahrain reflects many of the steadfastness and patience, faith and endurance, despite harm they are facing.
Syria Should Not Descend to Iraq-Like Abyss
The secretary general condemned the terrorist attacks that hit Damascus and ridiculed the alleges of some satellite channels and opposition figures who accused the Syrian regime of carrying out these attacks. "It's funny that some had accused the Syrian regime of being behind the terrorist attacks. How come a security system sends suicide bombers – if it has suicide bombers – and booby-trapped cars to destroy its intelligence and security centers? It's illogical."
"We are becoming increasingly convinced that there are some who want the downfall of Syria and that only because they want to get rid of the main supporter of Palestine and the resistance in Lebanon," His eminence pointed out.
Sayyed Nasrallah warned that the same hand that destroyed Iraq and committed massacres there is now seeking to destroy Syria and drag it to descend into Iraq-like abyss.
Concerning Syria's parliamentary elections, He said: "Elections were held in poor conditions, however the participation rate was higher than that in some European countries, Latin America or some Arab countries." "The Syrian people are before two approaches: reforms and dealing with things in a political way, or being under the destructive mind and hand as well as parties who are ready to provide weapons, money and suicide bombers …"
Proportional System the Best
Turning to internal affairs, Sayyed Nasrallah stressed the need that Lebanon's parliamentary elections should take place on time, hinting that the elections' campaigns have already started. He called for further dialogue on the electoral law and that each one should present his idea and discuss it without clinging to his decision.
Sayyed Nasrallah also said that regardless of the elections law that would be adopted in the country, Hezbollah could ensure representation in Parliament. But His eminence voiced support to an elections law based on proportional representation and said the Proportional representation system was the best in this regard, because it doesn't negate anyone, but eliminates the unilateralism among sects and provides the best means of national representation.
We understand the Progressive Socialist Party leader Walid Jumblatt's concerns but Al-Mustaqbal (Future) Movement insists on unilateralism to dominate the Sunni sect, Sayyed Nasrallah said. "The Future bloc uses May 7 clashes in parliamentary elections campaign because it doesn't have a national project. It flares Sunni-Shiite sedition to keep on the unilateralism in the Sunni sect".
The Hezbollah leader urged that May 7 clashes not be used to incite sectarian strife whether by Shiites or Sunnis through internet websites or pages.
"We accept to resort to the parliamentary elections, we did not and will not resort to arms," Sayyed Nasrallah said adding that the weapons that would affect elections are not Hezbollah's heavy weapons and rockets but the individual and small weapons which all Lebanese have.