The Telegraph: Free Army violates Human Rights in Syria
Date and Time:12 September 2012 - 22:11 -
Print This Post
Share
Tweet
Takip et: @_TurkeyNews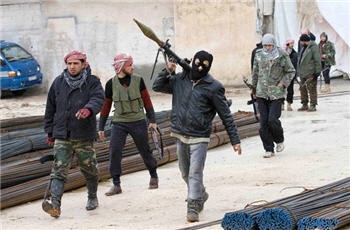 In al-Bab, town on the periphery of Aleppo, abductions have become so frequent that Foreign terrorists from the Free Army are publicizing a helpline number, writing it on walls and placing it on social media.
"When they receive a call from relatives of the victim, they track down the kidnappers. Then they either issue threats, or they go in for the rescue using force," said a resident from the area.
Dr. Mousab Azzawi, from the Syrian Network for Human Rights, confirmed that abductions were becoming more frequent. "Only recently in Aleppo we have heard of three abductions by groups asking for ransom," he said.
Mohammed, a student at Aleppo University, said that the same Free Army group that is cracking down on abductions made by gangs of opportunists is also running their own kidnapping operations to raise "funds for the revolution".
This unit, known as the Abu Bakr al-Siddiq brigade, kidnapped the "son of my uncle's business partner," said Mohammed. "The group demanded 5 million Syrian pounds for his release."
Former Catholic clergyman said that he fled Aleppo when fighting reached his home and a number of acquaintances were kidnapped.
The Free Army knows who the rich families are in Aleppo.
They watch their homes and movements," he said. "A man I know, whose father is very rich, was on the pavement when a rebel group forced him into a car and drove away. Two weeks later they called the father and demanded a huge sum of money – I think it was 25 million Syrian pounds.
They said on the phone that they didn't want the money for themselves, but for the revolution."
The money was left in the appointed place and the rebels collected it with their faces covered. "Ten minutes later, he received a call telling him were his son was," said the former clergyman.