UN blasts military aid provision to Syrian rebel terrorists by Turkey, Qatar, and Saudi Arabia
Date and Time:22 January 2013 - 12:55 -
Print This Post
Share
Tweet
Takip et: @_TurkeyNews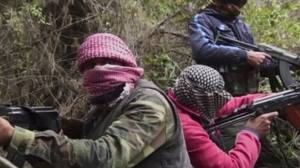 UN has broken its silence on some countries' provision of military aid to Syrian rebel terrorists, and has warned the dangerous implications of actions by Turkey, Qatar, and Saudi Arabia.
UN Secretary General Ban Ki-moon, and Lakhdar Barahimi, UN special envoy blasted countries supporting terrorists in Syria.
Al Manar TV Network quoted Martin Nesirky, the UN Spokesperson, as saying that "Ban Ki-moon and Lakhdar Barahimi have voiced their concerns about sending arms to Syrian rebels, since this contributes to spread of terror, destruction, and killings in Syria."
"Ban Ki-moon and Lakhdar Barahimi are in despair for the lack of international common position on Syria- a position helping transition government be formed according to Geneva Convention," told Nesirky to Al Manar.
US special envoy on Syria will present his report on Syria to Security Council. Turkey, Qatar, and Saudi Arabia have brought about human disaster in Syria by sending weapons to rebel terrorists.
Saudi Arabia has released 30,000 dangerous prisoners near Syrian borders, has stipulated jihad against Bashar al-Assad as their freedom condition.