Pakistani Senate Chairman Calls for Expansion of Ties with Iran
Date and Time:12 February 2013 - 23:28 -
Print This Post
Share
Tweet
Takip et: @_TurkeyNews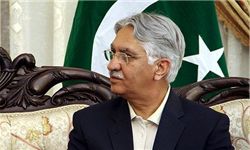 Chairman of Pakistan's Senate Nayyar Hussain Bukhari praised the good track record of mutual cooperation between Tehran and Islamabad, and underlined that his country attaches great importance to the expansion of bilateral ties with Iran.
He made the remarks in a meeting with Iranian Parliament Speaker Ali Larijani on Tuesday on the sidelines of a meeting of the Parliamentary Assembly of the Economic Cooperation Organization (PAECO) in Islamabad.
"Pakistan attaches a great value to the leadership and people of its neighbor, Iran," Bukhari said.
"The talks have always been going on between Iran and Pakistan and we thank Iran for its trade cooperation and cooperation in economic fields (with us) and we hope that this cooperation will increase," he added.
Iran and Pakistan have always had very close and intimate relations throughout the history.
The two countries exchange delegations on a regular basis and their leaders are resolved to further accelerate expansion of ties and cooperation between the two neighboring nations.
Earlier this month, Supreme Leader's Advisor for International Affairs Ali Akbar Velayati underlined that Iran and Pakistan are willing and resolved to further develop and consolidate their bilateral relations regardless of the enemies' opposition.