Palestinian Captives Ezzedine and Qa'dan transferred to the hospital
Date and Time:12 February 2013 - 23:49 -
Print This Post
Share
Tweet
Takip et: @_TurkeyNews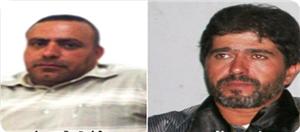 Families of hunger striking captives, Jafar Ezzedine and Tarek Qa'dan, from Arraba village southern Jenin, expressed deep concern after the urgent transfer of the two prisoners to hospital on Monday evening due to deterioration of their health.
Wife of prisoner Jafar Ezzedine told PIC's correspondent that the transfer of the captives to the hospital was expected in light of the deterioration of their health conditions due to the hunger strike.
She emphasizes that the family holds the occupation authorities fully responsible for the deterioration of the captives' health.
For his part; Mahmoud, brother of captive Qa'dan, said that the lawyer told the two families that the two prisoners have been transferred to Serfant hospital (Assaf Harofe), in the 1948-occupied territories, as a result of the deterioration of their health after entering their 80th day of hunger strike.
He pointed out that the captives have confirmed to the lawyer their determination to continue their open hunger strike until achieving their release.