Police Seize 77 Tons of Narcotics in Southern Iran
Date and Time:12 February 2013 - 23:30 -
Print This Post
Share
Tweet
Takip et: @_TurkeyNews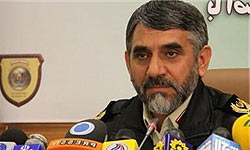 Iranian law enforcement police squads seized several tons of different types of narcotics in the country's Southern province of Hormozgan on the rims of the Persian Gulf during the current Iranian year (started on March 20, 2012), a senior Iranian police commander said on Tuesday.
"77 tons of narcotics have been discovered in Hormozgan province since the beginning of this year, 60 tons of which have been discovered and seized by the law enforcement police," Commander of the anti-narcotics squad of Iran's Law Enforcement Police General Ali Moayyedi told reporters on the sidelines of an anti-drug conference in Iran's Southern port city of Bandar Abbas today.
He added that Iran has intensified counter-narcotics measures in the Southern provinces, Hormozgan in particular, since drug-traffickers have changed their transit routes and are using sea routes to smuggle their cargos.
Iran, located at the crossroad of international drug smuggling from Afghanistan to Europe leads international efforts in fighting drug networks and narcotic traffickers.
According to the statistical figures released by the UN, Iran ranks first among the world countries in preventing entry of drugs and decreasing demand for narcotics.
The anti-drug squads of the Iranian Law Enforcement Police have intensified their countrywide campaign against drug-trafficking through staging long-term systematic operations since last year.
The Iranian police measures along the country's Eastern borders have forced drug-traffickers to resort to other routes, including the Sea of Oman and the Persian Gulf, to smuggle their drug cargos which originate in Afghanistan and Pakistan.