Syria Mufti: Events in Syria Come within Attempts to Fragment the Region
Date and Time:12 February 2013 - 23:35 -
Print This Post
Share
Tweet
Takip et: @_TurkeyNews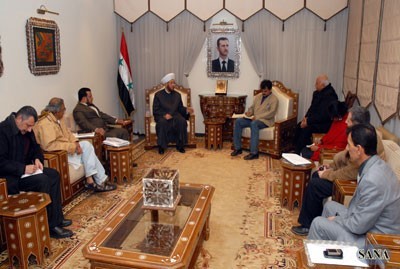 Grand Mufti of Syria, Ahmad Badr Eddin Hassoun, stressed that Syria will come out of its crisis victorious, noting that what Syria is facing comes in line with attempts to fragment the region and justify the presence of the Zionist entity.
During his meeting with an Indian delegation comprising activists and journalists, Hassoun stressed the important role of media in conveying the real image of the international aggression against Syria which aims at controlling the region and reviving the Ottoman domination.
For his part, Head of the Indian delegation, Feroze Mithiborwala stressed that all attempts to divide the Syrian people will be foiled.
Murad: Terrorists Attack Journalists to Prevent them from Conveying Reality of Events
Head of the Syrian Journalists' Union Elias Murad stressed that the terrorist groups are attacking journalists to prevent them from conveying the reality of the events in the country.
During a meeting with the Indian delegation, Murad pointed out to the plot against Syria and the sacrifices made by the Syrians to face it.
He briefed the delegation on the attacks against journalists and media institutions, stressing that journalists will continue defending the country.
In turn, Mithiborwala, said that the visit aims at inspecting the reality of the events and conveying it to the Indian public opinion.
Members of the delegation highlighted that the western media reports on the events in Syria are biased, stressing that they will convey the reality of the events to the Indian people.