34k troops to exit Afghan war: Zionist Obama
Date and Time:13 February 2013 - 11:29 -
Print This Post
Share
Tweet
Takip et: @_TurkeyNews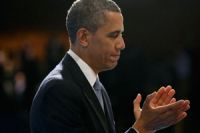 In his State of the Union Address, US President Barack Obama has announced that 34,000 US troops will be withdrawn from Afghanistan within a year and has pledged that by the end of 2014, the US war in the country will be over.
Obama said on Tuesday night, "After a decade of grinding war, our brave men and women in uniform are coming home".
He added, "Tonight, I can announce that over the next year, another 34,000 American troops will come home from Afghanistan. This drawdown will continue. And by the end of next year, our war in Afghanistan will be over".
He also said that the tax code should ensure billionaires cannot pay a lower rate than their hard-working secretaries.
The United States currently has 66,000 troops in Afghanistan, down from about 100,000 in 2010.
Last month, Obama held discussions with Afghan President Hamid Karzai on the timetable for transitioning Afghan forces into the lead combat role, with both leaders agreeing to move up the transition date from the summer to the spring.
However, since then tension between the two sides has risen, and Karzai recently announced that the US has stopped fighting against the Taliban. Karzai also said that the greatest threat to Afghanistan is not the Taliban but the interference by foreign powers.