Bahraini Opposition Figure: Time Ripe for Al-Khalifa to Step Down
Date and Time:13 February 2013 - 11:33 -
Print This Post
Share
Tweet
Takip et: @_TurkeyNews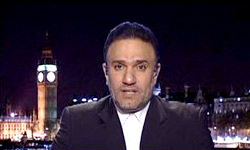 The al-Khalifa regime is no longer qualified to rule Bahrain due to the scope of crimes that it has committed so far, a spokesman for the February 14 Youth Movement – a main opposition to the Manama regime – said, adding that the country's revolutionaries are left with no other option but to topple the regime.
"We call on people to continue their protests and not to be deceived by the al-Khalifa plots. The people of Bahrain have a clear and single goal. Al-Khalifa is no longer qualified to rule the country due to the crimes it has committed and after the Saudi forces entered the country," Abdulrao'uf al-Shaeb told FNA on Wednesday.
"I believe that the Bahraini revolutionaries are quite vigilant about the continuation of the revolution and the necessity for bringing substantial changes and these talks have not influenced their movements and protests, but it has inflamed the revolution's flames and has made the people more determined to continue their path to the overthrow of the Al-Khalifa regime," he added.
Earlier this month, a senior Bahraini opposition figure described the al-Khalifa regime's proposal for talks with dissidents as a failed plan, and said talks under the Saudi occupation are meaningless.
"I don't believe that there is no serious plan for (the national) talks, and that no comprehensive agreement is considered (by the Bahraini regime)," Saeed al-Shahabi, Secretary-General of Bahrain Freedom Movement, told FNA at the time.
Shahabi said that the al-Khalifa has actually proposed the plan for talks to conceal the realities and the reality is that the Bahraini people have a big problem with the monarchy ruling their country.
He also called for the withdrawal of the Saudi forces who are collaborating with the al-Khalifa forces in suppressing the peaceful protests in Bahrain, and said any form of talks under the occupation of the Saudi forces would be impossible.
Anti-government protesters have been holding peaceful demonstrations across Bahrain since mid-February 2011, calling for an end to the al-Khalifa dynasty's over-40-year rule, end of discrimination, establishment of justice and a democratically-elected government as well as freedom of detained protesters.
Violence against the defenseless people escalated after a Saudi-led conglomerate of police, security and military forces from the Persian Gulf Cooperation Council (PGCC) member states – Saudi Arabia, Kuwait, the United Arab Emirates, Oman and Qatar – were dispatched to the tiny Persian Gulf kingdom on March 13, 2011, to help Manama crack down on peaceful protestors.
So far, tens of people have been killed, hundreds have gone missing and thousands of others have been injured.