Cop killer surrounded by SWAT police
Date and Time:13 February 2013 - 11:25 -
Print This Post
Share
Tweet
Takip et: @_TurkeyNews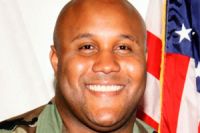 Reports say a former Los Angeles police officer accused of three murders has been surrounded by police inside a mountain cabin after shooting deputies during a fierce gunfight.
On Tuesday evening, Christopher Dorner exchanged fire with police in the US state of California's Big Bear Lake area, injuring two officers.
One of the injured later succumbed to his injuries in a hospital.
US television news networks showed dozens of SWAT (Special Weapons And Tactics) officers surrounding a cabin in a rural area outside Big Bear Lake, a ski resort about 130 kilometers (80 miles) northeast of Los Angeles.
The 33-year-old former Los Angeles Police Department (LAPD) fugitive was firing at police and using smoke grenades. He has sworn not to be taken alive.
The disgruntled former officer has been on the run since last week, after allegedly killing three people — including one police officer — in southern California.
He had declared war on police officers he blamed for his sacking in 2008.