France, UK legalize inhuman homosexual marriages
Date and Time:13 February 2013 - 10:10 -
Print This Post
Share
Tweet
Takip et: @_TurkeyNews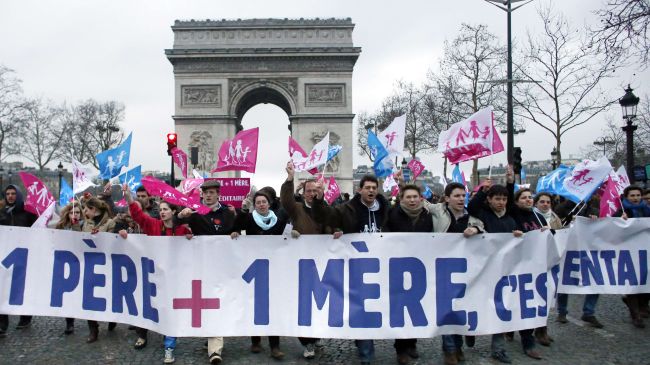 France is quickly heading to legalize homosexual marriages as the country's lower house of parliament has approved a highly controversial bill allowing homosexual couples to marry and adopt children.
The legislation was passed on Tuesday by 329 votes to 229 in the French National Assembly.
The lower house vote came 10 days after lawmakers approved to adopt an article, which redefines marriage as a contract between two people rather than between a man and a woman.
Demonstrators, representing several grassroots organization, the Catholic Church and the right-wing political parties, stood outside the National Assembly to protest against the bill as the chamber was voting on the bill.
The opponents of the bill say children have a fundamental right to have a father and a mother and believe that the bill will lead to the disintegration of the family institution.
French President Francois Hollande has promised to throw his weight behind the bill as the proposed legislation was one of his presidential campaign promises.
The law proposal will be debated in the Senate from April 2, where it is expected to win final approval.
Several other European states, including the Netherlands, Belgium, Denmark, Portugal, Norway, Spain, and Sweden have authorized homosexual marriage.