Fugitive US cop probably killed self following standoff with police force
Date and Time:13 February 2013 - 14:50 -
Print This Post
Share
Tweet
Takip et: @_TurkeyNews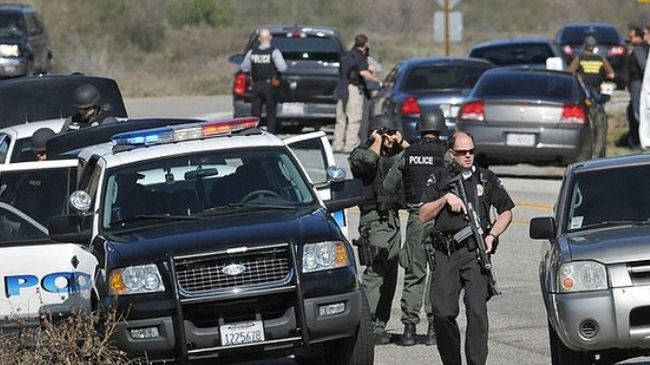 A former US police officer wanted for killing four people, including two police officers, is suspected to have been killed by a self-inflicted gunshot after police attempted to remove the walls of the cabin where he had barricaded himself.
The development came late Tuesday afternoon, following a fierce gun exchange between the fugitive Los Angeles police officer, 33-year-old Christopher Dorner, and an army of law enforcement officers, who had surrounded the cabin in the snow-covered Big Bear Lake forested area in Western coastal state of California.
Two police officers were critically injured during the fire exchange, one of whom later died of his wounds.
Latest reports indicate that Dorner, who remained inside the cabin even after it was riddled with hundred of bullets with teargas cartridges hurled inside through its blasted-out windows, set the place on fire and most likely killed himself with a single gunshot as authorities deployed "a vehicle" to tear down the walls of the cabin.
However, The Los Angeles Times reports that as of Tuesday night there were still conflicting reports on whether a body was located inside the burned-out cabin. While some police sources told news outlets that a body was spotted in the rubble, Los Angeles Police Department (LAPD) officials insisted that the cabin was still too hot to search for bodies.
According to the report, hundreds of law enforcement personnel had descended to the site after the gun battles between Dorner and officers. The police fugitive had been eluding a massive manhunt since his truck was found burning in the area late last week.
Law enforcement officers in military-style outfit and armed with high-powered weapons took up positions in the heavily forested area as the fierce standoff transpired.
The ex-LAPD police officer went on a killing spree, seeking "revenge" for being fired by the police force in 2008 after reporting a case of police abuse by his training officer, a white female. Dorner, an African American, had insisted that he was a victim of racism, which has reportedly been rampant in the Los Angele Police Department.
The disgruntled former officer has been on the run since last week, after allegedly killing three people, including one police officer in southern California.
State and federal law enforcement officers launched a massive search after Dorner's initial killings and in the process fired multiple shots at three individuals who were riding in vehicles that resembled that of Dorner's. Two of the people targeted and wounded by police were females and the other one was a white, skinny male that did not at-all resemble the fugitive cop.
At one point, police announced that Dorner may have crossed the border into Mexico.