Iran diplomatic bid in Syria fruitful
Date and Time:13 February 2013 - 11:26 -
Print This Post
Share
Tweet
Takip et: @_TurkeyNews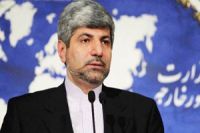 Iranian Foreign Ministry Spokesman says Tehran's diplomatic efforts have resulted in the consent of influential countries to national dialogue as the sole solution to the Syria crisis.
Ramin Mehmanparast said on Tuesday, "Regional and trans-regional countries should help to get the dialogue underway and the Syrian crisis must be solved through peaceful means by the people of that country".
The spokesman also expressed satisfaction with the outcome of the recent negotiations between Iran's Foreign Minister Ali Akbar Salehi and his Egyptian and Turkish counterparts in Cairo.
he added, the Islamic Republic of Iran's six point plan for ending the crisis in Syria is constantly reviewed in and we try to focus on points of agreement".
On December 16, Iran unveiled the details of a six-point plan to resolve the ongoing crisis in Syria, which calls for an immediate end to all violence and armed conflicts.