Iran strongly against nuclear weapons
Date and Time:13 February 2013 - 11:27 -
Print This Post
Share
Tweet
Takip et: @_TurkeyNews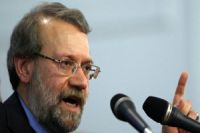 Iranian Majlis (Parliament) Speaker Ali Larijani says the Islamic Republic is strongly against the development of nuclear weapons.
At a press conference in the Pakistani capital Islamabad on Tuesday, Larijani told reporters, "We have repeatedly said that such weapons have no place in Iran's nuclear doctrine. Leader of the Islamic Revolution Ayatollah Seyyed Ali Khamenei has also issued a fatwa, forbidding the creation and stockpiling of weapons of mass destruction."
He described nuclear weapons as harmful to the peace and security of nations.
The high-ranking official said the reason behind the proliferation of such weapons is that arrogant powers, including the United States, keep producing new nuclear arms.
On February 22, 2012, the Leader of Islamic Ummah and Oppressed People Imam Sayyed Ali Khamenei said the Islamic Republic considers the pursuit and possession of nuclear weapons "a grave sin" from every logical, religious and theoretical standpoint.
The Leader described the proliferation of nuclear weapons as "senseless, destructive and dangerous," adding that the Iranian nation has never sought and will never seek atomic bombs as the country already has the conventional capacity to challenge the nuclear-backed powers.