Iran to launch largest NGL plant in PG
Date and Time:13 February 2013 - 11:25 -
Print This Post
Share
Tweet
Takip et: @_TurkeyNews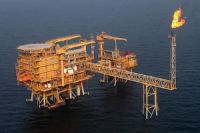 Iran is set to launch the largest associated petroleum gas (APG) gathering plant in the Persian Gulf region on the country's southern Siri Island.
The plant that will produce natural gas liquids (NGL) will be inaugurated by President Mahmoud Ahmadinejad in an official ceremony on Thursday.
When fully operational, the plant would on average collect 100 to 104 million cubic feet per day (mcfpd) of dry gas, thus preventing associated petroleum gas from being burned in flares.
The NGL plant will also produce 1,500 barrels per day (bpd) of pentane, 4,000 bpd of butane, 1,400 bpd of gas condensate and 8,000 bpd of propane.
Several Asian and European countries have expressed readiness to purchase condensate and gas liquids from the Siri plant, despite oil and gas sanctions against Iran.