Iran, Turkey can help establish peace in Syria: Larijani
Date and Time:13 February 2013 - 15:17 -
Print This Post
Share
Tweet
Takip et: @_TurkeyNews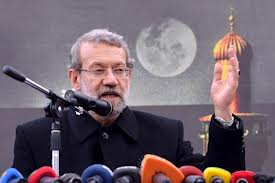 Iranian Majlis Speaker Ali Larijani has said that the Islamic Republic and Turkey can help restore peace in Syria.
Larijani made the remarks during a meeting with his Turkish counterpart Cemil Cicek on the sidelines of the first conference of parliamentary assembly of the Economic Cooperation Organization (ECO) countries in Islamabad on Monday.
Iran and Turkey can help calm the situation in Syria "particularly at the current atmosphere that the Zionist regime (of Israel) is exploiting the situation," Larijani said.
He also said that Tehran supports political reforms in Syria and believes that democracy cannot be established through "guns", a reference to the armed struggle in the Arab country to establish a multiparty system.
Larijani put emphasis on consultation between Iran and Turkey to help resolve the Syrian crisis.
Turkey's Parliament speaker called Iran a "friendly" country and emphasized that warm relations between the two nations serve the interests of regional people.
Cicek said Ankara defends Syria's territorial integrity, warning that if sectarian conflicts do not come to an end in Syria, separatist groups may take advantage of the situation and create lots of problems for other countries.
On the stationing of NATO Patriot missile batteries along Turkey's border with Syria, Cicek said these missiles are only meant to defend Turkey against possible attacks from Syria.
He insisted that Turkey doesn't intend to launch assault against any country, noting that Iran should not be worried about the deployment of the Patriot missiles on Turkish soil.
The Turkish official stressed that the missiles are stationed at places along the border where there is heavy fighting between the Syrian troops and opposition forces, adding, "Should the Syrian crisis be settled through our (diplomatic) efforts, definitely the missiles will be removed."
Iran-Pakistan relations are 'exemplary'
During a separate meeting with Pakistani Senate Chairman Nayyar Hussain Bukhari in Islamabad on Tuesday, The Iranian Majlis speaker hailed relations with Pakistan, describing it as "exemplary".
He said that due to close cultural affinities, literary figures like Iqbal Lahori are very well known in Iran.
Bukhari noted that Iranian and Pakistani leaders have established good cooperation to boost ties in various areas in line with the interests of the two countries' people.
Larijani also met with Chairman of Tajikistan's Assembly of Representatives Shukurjon Zuhurov and discussed a number of issues including ways to expand economic relations.