Official: Iran Installing New-Generation Centrifuges in Natanz Enrichment Facility
Date and Time:13 February 2013 - 15:35 -
Print This Post
Share
Tweet
Takip et: @_TurkeyNews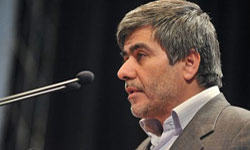 Iran has started installing new generation centrifuges at its enrichment facility in the Central city of Natanz since last month, Head of the Atomic Energy Organization of Iran (AEOI) Fereidoun Abbasi announced on Wednesday.
"We unveiled the first cascade of the new generation centrifuges in February 2012 and after that our studies completed in that pilot (cascade)," Abbasi told reporters in Tehran today.
"We should install a large number of such systems to reach (the level of) industrial production," he added.
"Installation of the new centrifuges started in Natanz around a month ago," Abbasi said, and said the installation process would continue according to the plans in order that "we will be able to complete the laboratory of the new generation centrifuges".
In relevant remarks late 2012, Iran's Permanent Representative to the International Atomic Energy Agency (IAEA) Ali Asqar Soltaniyeh said Tehran's nuclear experts have reached self-sufficiently in manufacturing centrifuge machines for the country's nuclear enrichment facilities.
Soltaniyeh said that Iran has "fully mastered" the nuclear energy technology and can produce all the 90 pieces of a centrifuge machine on its own and without foreign assistance.