Russian Offical: Syria is Fighting against International Conspiracy
Date and Time:13 February 2013 - 17:37 -
Print This Post
Share
Tweet
Takip et: @_TurkeyNews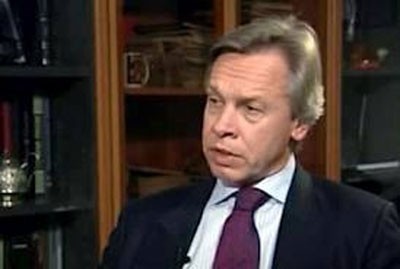 Chairman of the State Duma International Affairs Committee, Alexei Pushkov, stressed that Syria is confronting an international conspiracy and serious foreign intervention represented in providing arms and financial support to the opposition.
In a press conference in Moscow, Pushkov said that the system in Syria has no choice but to defend, adding that "Had it not been for the huge foreign arms supplies and financial support, the Syrian government would have been able to keep a firm hold on all Syrian areas."
He added that President Bashar al-Assad was right when he announced that "We are fighting against an international conspiracy," noting that the presence of serious foreign intervention elements aims at creating a bloody balance, which will prolong the crisis.
Pushkov said that the US will soon acknowledge the reasons and proofs which Russia put forward in regard to evaluating the situation in Syria, pointing out that the US has admitted that the collapse of the administrative structure in Syria would have very negative repercussions.

Russian Official: Military Cooperation with Syria Progressing

Anatoly Isaykin, Director of the Russian Rosoboronexport firm said that technical military cooperation with Syria is progressing under international law, indicating that his country exported air defense systems to Syria according to signed contracts.
RT website quoted Isaykin as saying during a press conference in Moscow on Wednesday that "Syria ranks 13 or 14 in the overall volume of Russian foreign exports, " indicating his firm has not exported Iskander missile system or any other offensive weapons to Syria.
He denied his firm had signed a contract with Syria for exporting MiG-29M fighter jet, affirming that the company has no such contracts.
Isaykin said there are contract for exporting Yak-130 aircraft which, he said, are yet to come into force. He said that Rosoboronexport is a state corporation working in exporting weapons and military technologies, with a budget of USD 73,3 billion, indicating that his firm managed to augment and expand the scope of foreign exports despite the tense situation in North Africa and the Middle East.