Spanish Airline Iberia to Fire 3,807 Workers
Date and Time:13 February 2013 - 11:40 -
Print This Post
Share
Tweet
Takip et: @_TurkeyNews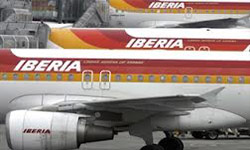 Spanish airline Iberia announced to fire 3,807 workers as a result of its cost cutting program that aims to improve the company's profitability after suffering important losses since 2008.
Iberia, which has been part of the holding IAG along with British Airways since 2011, said that the cost cutting program will affect around 19 percent of the company's total workforce which amounts to around 20,000 workers, Xinhua reported.
The company attributed this decision to losses of "more than 850 million euros (1.143 billion US dollars) between 2008 and September 2012."
As a result, last November 2012 Iberia had presented a plan which predicted the loss of 4,500 jobs.
Unions and the company negotiated for around three months without reaching an accord, while unions announced last week 15 days of strike for February and March.
The company reduced by 17 percent the number of dismissals according to Tuesday's figures in comparison with those predicted in November.
The Spanish airline also offered compensation of 20 days wage per year worked, to a maximum amount corresponding to 12 months salary.
According to the unions, which have 30 days to negotiate the plan with the company, job shedding will last nine months, from March 14 to the end of the year 2013.
Of the total number of redundancies, 2,735 land-based workers will be affected by the cost cutting program, 360 of them from the airport of Barajas in Madrid.
A further 759 workers from the cabin crew will be also fired, along with 313 pilots.
The government has already encouraged both sides to reach an agreement to avoid the 15 full-day strikes happening in February and March, that was organized by the unions on Feb 6 when the parties could not reach an agreement.