US university shooting leaves 2 dead
Date and Time:13 February 2013 - 11:24 -
Print This Post
Share
Tweet
Takip et: @_TurkeyNews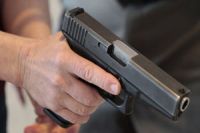 At least two students have been killed and one injured in a shooting at the off-campus residence of the University of Maryland in the latest gun violence in the country.
Local police said two university students were killed and one injured in an apparent murder-suicide at an off-campus residence in the US city of Campus Park on Tuesday.
As described by the authorities, when a student confronted his roommate for setting a fire in the basement of their shared house, he opened fire, killing one and injuring the other, and then killed himself.
The names of the victims were not released but it was noted that all three were male.
This comes as three people, including a gunman, were killed and two police officers injured after a shooting broke out at a courthouse in the US state of Delaware on Monday.
On December 14, 2012, a 20-year-old man, identified as Adam Lanza, killed twenty children and six adults at an elementary school in Newtown, Connecticut.