Yemenis See Claims about Iranian Arms Shipment as "US Game"
Date and Time:13 February 2013 - 11:32 -
Print This Post
Share
Tweet
Takip et: @_TurkeyNews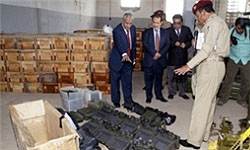 Yemeni security officials believe that the recent accusations about the seizure of an Iranian arms cargo in Yemen is nothing but a game initiated by American officials against Iran.
According to a report by Yemen's Al-Tagheernet news network, a high-ranking Yemeni security official said that the arm shipment confiscated in the Sea of Oman by the US intelligence and military assistance is unlikely to be Iranian.
The official had told Donya al-Watan on the condition of anonymity that the claims about Iran's arm smuggling to Yemen are "ridiculous".
"Everybody was told that the weapons were Iranian and had been sent for the Houthis, but I think that is, in fact, an American game in the region," the Yemeni security official was quoted as saying.
Yesterday, Iranian Foreign Ministry Spokesman Ramin Mehman-Parast categorically denied the accusations about arms shipment to Yemen as baseless, and reiterated that Tehran respects the regional stability and security.
Mehman-Parast's remarks came after several Yemeni officials, including the country's Interior Minister Abdel-Qader Kahtan, and the Saudi-led Yemeni media claimed that an Iranian ship seized by the Yemeni military contained weapons destined for Yemen's Houthi Community in the North of the country or as other Yemeni officials claimed for rebels in Somalia fighting the central government.
"We have announced several times that we prioritize the region's stability and security, and underline the rights and national sovereignty of (other) countries," the Iranian diplomat said.
Last week, Yemen's President Abd-Rabbu Mansour Hadi accused Iran of smuggling arms into the Arab country. The Yemeni government asked the United Nations to probe a seized ship it claims contained Iran-made weapons.
Iranian officials on different occasions have strongly refuted Yemeni officials' allegations, saying that Iran attaches importance to maintaining security and stability of regional countries, specially Yemen.