Tajikistan, Italy, OIC congratulate Rohani
Date and Time:18 June 2013 - 11:05 -
Print This Post
Share
Tweet
Takip et: @_TurkeyNews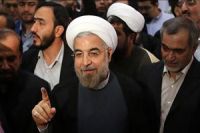 Tajik President Emomali Rahmon has congratulated Hassan Rohani over his victory in Iran's June 14 presidential election.
According to Press TV, in his message, which was issued on Monday, Rahmon wished the president-elect success.
He praised the relations between Dushanbe and Tehran and expressed hope that the two countries with cultural, historical, and linguistic affinities would expand their ties in various areas during the new Iranian president's term in office.
Meanwhile, Italian President Giorgio Napolitano also congratulated Rohani over his election victory on Monday and said efforts should be made to strengthen Iran-Italy relations.
In addition, on Monday, Organization of Islamic Cooperation Secretary General Ekmeleddin Ihsanoglu congratulated Rohani on his victory in the June 14 presidential poll and wished him success.
He expressed optimism that ties between the 57-member organization and Iran would improve under President-elect Hassan Rohani and that Tehran would begin to play a more active and influential role in the OIC.
Ihsanoglu stated "Iran is one of the OIC's founding members and an active member of the organization."
Leaders of Persian Gulf Arab countries have also issued separate messages congratulating Rohani on his victory in the election.