Bahraini regime jails teenager for 'insulting' king on Twitter
Date and Time:30 June 2013 - 10:45 -
Print This Post
Share
Tweet
Takip et: @_TurkeyNews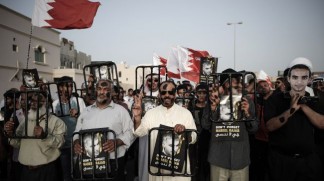 A criminal court in Bahrain has sentenced a 17-year-old boy to a year in prison for what it calls insulting the Al Khalifa family, amid calls by Human Rights Watch for the release of detained activists in the country.
Ali al-Shofa, who was arrested in a house raid in March, has been accused of insulting King Hamad bin Isa Al Khalifa on Twitter.
The head of the court is a member of the ruling family.
Rights advocates on Saturday condemned the verdict, saying it is part of a wider crackdown on freedom of speech in Bahrain.
Human Rights Watch called on European Union foreign policy chief Catherine Ashton in a Saturday statement to "pursue with Bahrain the immediate release of 13 high-profile activists and others detained or imprisoned for peacefully exercising their rights."
"If human rights are truly at the centre of the EU's foreign relations… then the high representative and member states need to show it at the EU-[P]GCC meeting by vigorously pressing for the release of the Bahraini activists," said Lotte Leicht, the EU director of Human Rights Watch.
Reports say at least 13 opposition leaders are held in prison for involvement in protests against the Bahraini regime.
The regime's courts handed down life sentences to seven of the activists, including prominent activist Abdulhadi al-Khawaja, and gave the others jail terms ranging from five to 15 years.
Since mid-February 2011, thousands of pro-democracy protesters have staged numerous demonstrations in the streets of Bahrain, calling for the Al Khalifa royal family to relinquish power.
The Bahraini regime promptly launched a brutal crackdown on the peaceful protests and called in Saudi-led Arab forces from neighboring states.
Dozens of Bahraini people have been killed in the crackdown, and the security forces have arrested hundreds, including doctors and nurses.