Bahrain opposition welcomes UN condemnation of Al Khalifa regime
Date and Time:15 September 2013 - 20:15 -
Print This Post
Share
Tweet
Takip et: @_TurkeyNews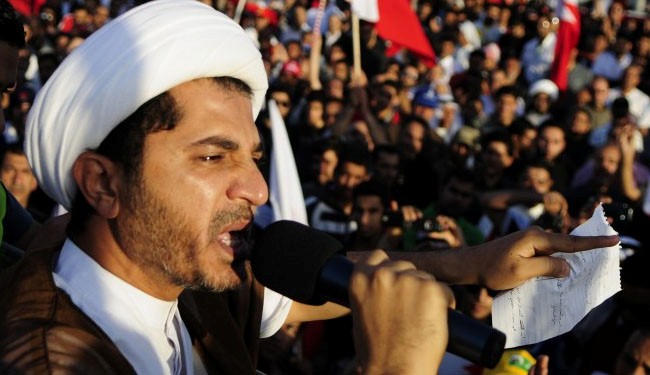 The secretary general of Bahrain's main opposition group, al-Wefaq has welcomed a new statement by UN Human Rights Chief Navi Pillay on condemning the Al Khalifa regime's crackdown on peaceful protests in the tiny Persian Gulf Arab nation.
"During her recent remarks, Navi Pillay has condemned the Al Khalifa regime's crackdown on Bahraini civilians and government-sponsored terrorism against them," Sheikh Ali Salman said on Thursday, referring to her address to the Human Rights Council about human rights violation in Bahrain.
Referring to the public calls for fall of the regime, he said that "I am sure that most of the people in Bahrain want the ouster of the current regime and the establishment of a popular government."
The Sheikh also underlined the need for holding open referendum in Bahrain to meet the demand of people.
UN High Commissioner for Human Rights Navi Pillay told the Human Rights Council on Monday that that she was frustrated with reports of widespread human rights violations in Bahrain.
"I regret to report that the human rights situation in Bahrain remains an issue of serious concern," she said. "The deep polarization of society and the harsh clampdown on human rights defenders and peaceful protesters continue to make a durable solution more difficult to secure."
"I reiterate my call on Bahrain to fully comply with its international human rights commitments, including respect for the rights to freedoms of expression, peaceful assembly, and association," Pillay said.
The small Persian Gulf Arab state, which hosts the US Fifth Fleet, has been rocked by bouts of unrest since February 2011 when an uprising led by members of the Shia majority demanded the al-Khalifa dynasty give up power.
The authorities crushed the revolt but protests and clashes have persisted despite continuing talks between government and opposition.
At least 80 people have been killed since Arab Spring-inspired protests erupted in Bahrain in early 2011, according to the International Federation for Human Rights.