100,000 Saudi-deported Ethiopians return home
Date and Time:5 December 2013 - 23:11 -
Print This Post
Share
Tweet
Takip et: @_TurkeyNews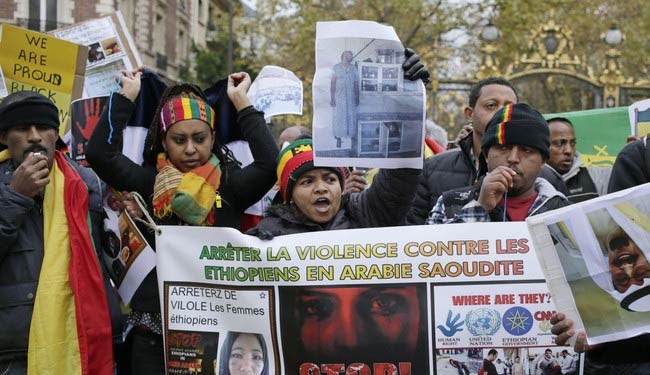 Ethiopian foreign ministry has announced the repatriation of over 100,000 of its citizens from Saudi Arabia following a brutal crackdown by the Persian Gulf kingdom on immigrant workers.
Ethiopian Foreign Minister Tedros Adhanom announced in a Thursday statement that nearly 50,000 more citizens of the African nation were yet to return home.
"Last night arrivals from Saudi reached 100,620. All citizens that were detained in Riyadh deportation camps are back," Adhanom's statement added.
Addis Ababa began repatriating its citizen from the oil-rich kingdom on November 13, after an amnesty period for illegal immigrants expired, causing violent clashes between Ethiopian migrants and Saudi's security forces.
The Foreign Ministry said the repatriation efforts have been "successful so far," adding the number is "increasing over time."
Addis Ababa said that at least three of its citizens have been killed in clashes with Saudi police.
Human rights groups have criticized Saudi Arabia over the conditions of migrant workers.
Human Rights Watch has called on Riyadh to launch an investigation into the violence, warning of a potential "humanitarian disaster" for jailed workers.
Ethiopia Foreign Ministry spokesman Dina Mufti said that the repatriation that began on November 13, would continue in the upcoming weeks.
"Hopefully we will do it as soon as possible… if the current pace continues, it may be, it will be in a week or two," he added.
Riyadh has announced plans to create jobs for Saudi nationals by reducing the number of foreign workers totaling some nine million people.
Hundreds of thousands of workers have already left Saudi Arabia amid tough conditions for migrants.