UNBELIEVABLE: Adra massacre: Terrorists show photos of those they beheaded
Date and Time:17 December 2013 - 22:39 -
Print This Post
Share
Tweet
Takip et: @_TurkeyNews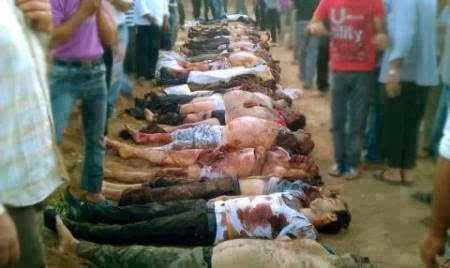 Inhuman terrorists have posted photos of people they have beheaded in Syria's Adra, located near capital Damascus.
Survivors have been describing unprecedented levels of atrocities committed by the extremist militants who attacked their town to kill.
According to Arabic language al-Haghigha website, horrified people have been running away from Adra after witnessing militants attacking homes and executing people family by family.
A witness estimated number of militants was between 1,000 to 1,500, who entered the town on Wednesday, December 11th.
Another one described, "We woke up at (Wednesday) dawn with the sound of bullets… we saw men carrying black flags of Jaish al-Islam and al-Nusra Front. Some of them were singing 'Alawites we have come to cut off your head's song and this was the song they first sang at the start of the war in Idlib."
According to reports, slaughtering people continued until Wednesday night, while hundreds were wounded and many were kidnapped and held by the militants to prevent the army of bombing the places they were hiding.
Another eyewitness said some of the Sunni residents tried to hide Alawites in their homes to save them from getting killed by Wahhabi extremists.
The Wahabbis even started issuing warning to Alawites through mosque speakers telling them to surrender themselves.
The events in Adra are a further example of the shift that has taken place within the Syrian rebel forces which has lately been dominated by extremists.
The war in Syria started in March 2011, when pro-reform protests turned into a massive insurgency following the intervention of Western and regional states.
The unrest, which took in terrorist groups from across Europe, the Middle East and North Africa, has transpired as one of the bloodiest conflicts in recent history.
According to the United Nations, more than 120,000 people have been killed and millions displaced due to the turmoil that has gripped Syria for over two years.