Anti-regime protesters hold rally in Bahrain
Date and Time:22 January 2014 - 7:36 -
Print This Post
Share
Tweet
Takip et: @_TurkeyNews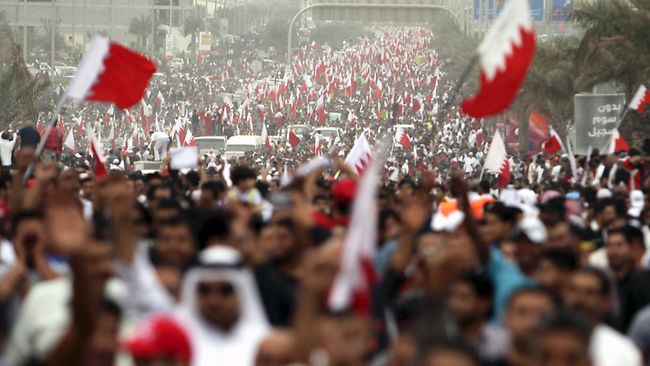 People in Bahrain have once again staged pro-democracy protests against the ruling Al Khalifa regime.
On Wednesday, demonstrators took to the streets in Bahrain's northeastern island of Sitra. Anti-regime protests were also held in the villages of al-Akr, Samaheej and Ma'ameer.
In the village of Ma'ameer, the demonstrators held a vigil for one of the protesters killed in the Al Khalifa regime clampdown on pro-democracy activists. Chanting slogans against the Al Khalifa regime, they called on King Hamad bin Isa Al Khalifa to step down.
The Bahraini protesters also voiced their opposition to the so-called national reconciliation talks in the country.
Bahraini regime has initiated national dialogue as part of an attempt to appease the opposition and end almost three years of popular uprising. Numerous rounds of talks however have failed to heal the rifts between the opposition and the Manama regime.
Since mid-February 2011, thousands of pro-democracy protesters have staged numerous demonstrations in different parts of Bahrain, calling for the Al Khalifa royal family to relinquish power.
On March 14, 2011, troops from Saudi Arabia and the United Arab Emirates invaded the country to assist the Bahraini government in its crackdown on the peaceful protesters.
According to local sources, scores of people have been killed and hundreds arrested.
Physicians for Human Rights says doctors and nurses have been detained, tortured, or disappeared because they have "evidence of atrocities committed by the authorities, security forces, and riot police" in the crackdown on anti-government protesters.