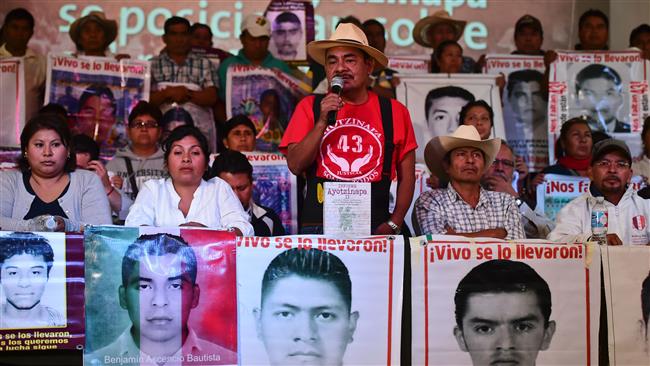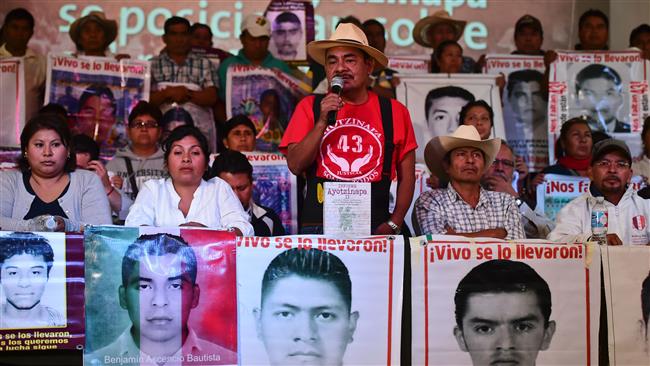 Families of the 43 Mexican students who went missing almost two years ago have accused the government of lying about the fate of their loved ones. 
The parents reacted angrily to a Monday report by a panel of international experts, which accused the Mexican government of obstructing its inquiry into the case of the students.
They disappeared on September 26, 2014, after they participated in a protest in the southwestern city of Iguala, Guerrero State.
At a press conference, the parents said the government is trying to prematurely turn the page on its crimes.
Felipe de la Cruz, a spokesperson for the families, accused President Enrique Pena Nieto and his government of being dishonest.
"Despite this we're going to continue to move forward. We can't stop until we find the truth and justice can be done," he said.
The five-member panel of the Inter-American Commission on Human Rights (IACHR) has said in the report that the government's stonewalling stopped them from reaching the truth.
"Without the experts, we wouldn't know the lies that the government has been telling us," said another parent, Bernardo Campos.
Mexican prosecutors say the missing students were arrested by corrupt municipal policemen and handed over to the local criminal gang of Guerreros Unidos.
The gang apparently massacred them and burned their bodies at a garage dump, and dropped their remains in a nearby river.
Relatives of the victims, however, dismiss the government version of the incident.
"From the start, we did not accept the government version and now we have scientific proof that it didn't happen as they said," said Cristina Bautista, another of the parents.
The international report also dismissed the government's narrative of the incident, saying there is no evidence that the 43 students were incinerated at the dump.
It said the claim that the students had been burned is scientifically impossible given the heat needed to reduce human remains to ash. It said the remains of only one student were fully identified after they were found in a nearby river.
Mario Cesar Gonzalez, whose son is among the missing said he believed "undoubtedly it was them (authorities) who went and planted the evidence in San Juan River."
The government, however, said in a statement that it is "on the same side" with the families of the missing students.
Mexico's government once authorized an investigation by IACHR experts, but at times actively blocked them from moving forward, according to the panel.
Last week, Reuters reported that the country's army withheld some crucial evidence from the experts, including photographs and video footage recorded as police clashed with the students.
The government has also banned investigators from questioning soldiers on duty that night of the incident.