22 March 2018 - Thursday - 5 Rajab 1439 |
22/03/2018
(4)
21/03/2018
(37)
20/03/2018
(38)
19/03/2018
(41)
18/03/2018
(39) Total:
135,561
content
ISIS suicide bomber drives headlong towards Tal Afar Airbase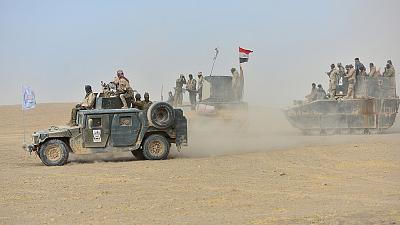 Nail-biting footage has emerged of an ISIL VBIED (vehicle-borne improvised explosive device) plunging towards positions held by the Popular Mobilization Units (PMU) during the battle for Tal Afar Airbase.
Fortunately for the Iraqi soldiers, the suicidal driver was brought to an explosive halt just meters prior to reaching his designated target, two Iraqi armored Humvees.
Following the PMU's capture of Tal Afar Airbase, the Iraqi Armed Forces have now turned their attention to Tal Afar city, an ISIS bastion in the western part of Nineveh province.
Should the PMU seize control of Tal Afar, their forces will effectively have cut off the ISIS's only supply road to Mosul, thus sealing the inevitable fate of the city.

Scroll Up