20 June 2018 - Wednesday - 6 Shawwal 1439 |
20/06/2018
(34)
19/06/2018
(44)
18/06/2018
(27)
17/06/2018
(22)
16/06/2018
(30) Total:
139,082
content
Video- Syrian Army liberates Qadi Askar district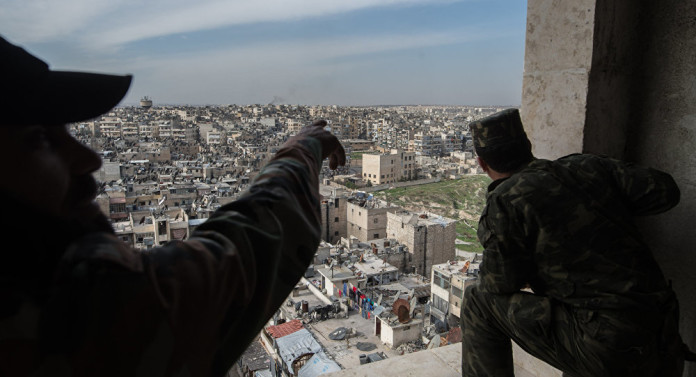 Following up on the capture of the al-Sha'er district earlier today, the Syrian Arab Army (SAA) proceeded to strike westwards, liberating the nearby Qadi Askar district on Tuesday.
With rebel factions seemingly unable to halt the SAA's momentum, scores of Islamist insurgents surrendered themselves to the advancing government forces.
Similar to earlier Aleppo advances, the primary fighting force involved in storming the Qadi Askar neighborhood was the Tiger Forces, the SAA's seasoned shock troops.
On the other hand, rebels have united under the Jaish Halab (Aleppo Army) operations room in a last-ditch effort to reverse the tides of war. Specifically involved in the Qadir Askar clashes were nevertheless Ahrar al-Sham, Jabhat Fateh al-Sham (formerly known as Jabhat al-Nusra) and several Free Syrian Army (FSA) contingents.
Due to the loss of the Qadir Askar neighborhood, Islamist rebels are fleeing from indefensible districts north and east of Aleppo Citadel and re-mobilizing in 'Old Aleppo'.
Meanwhile, jaw-dropping preliminary reports suggest local Islamist commanders have agreed, minutes ago, to evacuate rebel forces from most of eastern Aleppo after lengthy talks between Turkey and Russia, thus restoring Syria's largest city under government control for the first time since 2012.
Footage from the Qadi Askar battle can be seen here:


Scroll Up