Africa
Moroccan regime forces clash with protesters demanding release of activist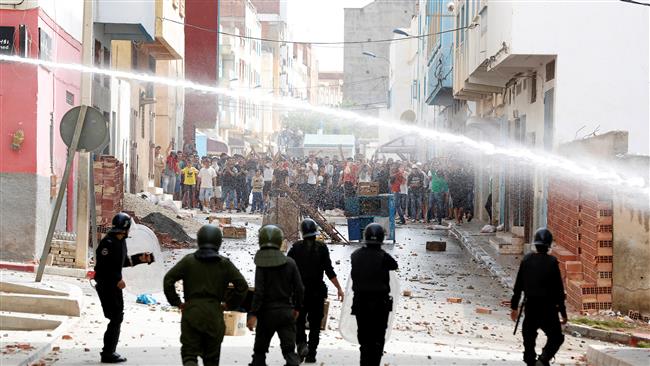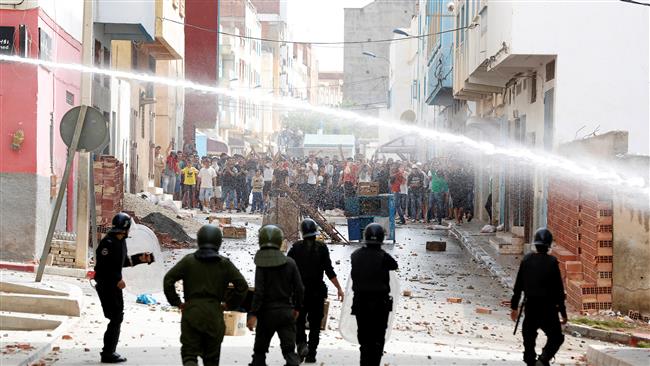 Moroccan riot police have clashed with anti-government demonstrators in a town in the northern Rif region, which has been hit by angry rallies against the detention of a prominent protest leader over the past week.
The scuffles broke out on Friday after hundreds of young people started hurling rocks and trash at police in Imzouren, a town 450 kilometers northeast of the Moroccan capital, Rabat.
Police fired water cannon to disperse the angry crowd protesting against corruption, repression and unemployment.
It was not immediately clear whether any demonstrators or police had been injured in the unrest.
The clashes came after Nasser Zefzafi, who emerged as the leader of the protesters' Popular Movement, was arrested last week and charged with threatening national security, among other offences.
In the port city of al-Hoceima, where Zefzafi was apprehended after three days on the run, most shops were shuttered for the second day of a general strike on Friday.
Hoceima, a city of 56,000 inhabitants in the neglected Rif region, has been the scene of social unrest since last year, when a local fisherman was crushed in a refuse truck as he was trying to retrieve his merchandise confiscated by police.
The fishmonger, Mouhcine Fikri, was killed in October 2016, when a garbage compactor he had climbed into started operating. He was seeking to stop police from destroying 500 kilograms of swordfish that they had seized from him and had thrown into the truck
Also on Friday, protesters took to the streets of Hoceima for an eighth straight, chanting slogans such as "We are all Zefzafi," while holding pictures of the protest leader.
Some Moroccan activists describe the unrest in Hoceima as the "unfinished business" of Moroccan "Arab Spring" activists.
Arab Spring refers to a series of uprisings and revolutions that started across the Middle East and North Africa in 2011 against despotic rule, unemployment, inflation, and corruption, among other issues.
Morocco's government spokesman Mustafa El-Khafli said authorities had arrested around 40 people since last Friday, adding that 700 sit-ins had taken place over the past seven months in the Rif, including 150 in Hoceima.
Meanwhile, Amnesty International accused Moroccan authorities of carrying out "a chilling wave of arrests" of at least 71 protesters in the Rif over the past days, including activists and bloggers who demand "an end to marginalization of communities and better access to services in the region."
The UK-based human rights body said some of those detained had been denied prompt access to their lawyers in police custody.
"We fear this wave of arrests may be a deliberate attempt to punish protesters in the Rif for months of peaceful dissent. It is essential that the Moroccan authorities respect the right to freedom of expression and assembly," said Heba Morayef, North Africa Research Director for Amnesty International.
"Those charged with a legally recognized offence, must not be denied the right to a fair trial. The authorities should also ensure that peaceful activists are not convicted on trumped-up charges as punishment for participating in protests in the Rif," he added.
The report came after lawmakers told Amnesty International that they had received reports of violent treatment of the detainees and had seen visible injuries on the faces and bodies of several defendants before court prosecutors in Hoceima.