World News
Portuguese firefighters battling forest fire killing at least 62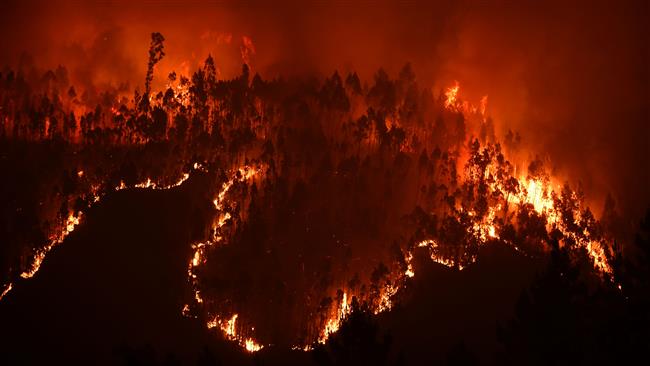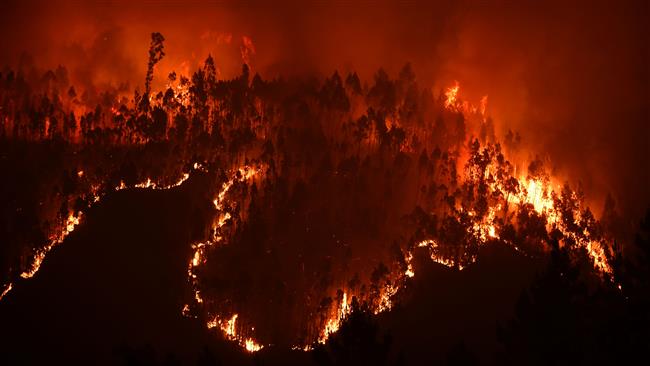 Firefighters on Sunday continued battling the raging blazes from a forest fire, which has killed at least 62 and injured 54 others in central Portugal.
The fire broke out in a forest of Pedrogao Grande, some 150 km northeast of the capital, Lisbon, on Saturday due to high temperatures and dry thunderstorms and quickly spread to the towns of Figueiro dos Vinhos and Castanheira de Pera in the district of Leiria, where firefighters are still battling the fire.
Scorched houses, vehicles, and vegetation and dense smoke littered the area, forcing local residents to stay with friends or relatives.
"We saw five fire points at about 14:00 yesterday (Saturday). We were quite worried, thinking what we should do. Then we rushed home to fetch some necessities. My house and everything inside have burnt down in the fire. My friend and I were sparing no effort to fight the fire last night. Today I feel quite terrible to see my house and its surroundings burnt down," said Alicia, a local resident.
The Portuguese government has declared a state of emergency in the fire area, and a three-day national mourning from Sunday to Tuesday.
According to Spanish media reports, Spain has sent two airplanes to the area to help extinguish the fire while France has also sent support.
(Source: Reuters)