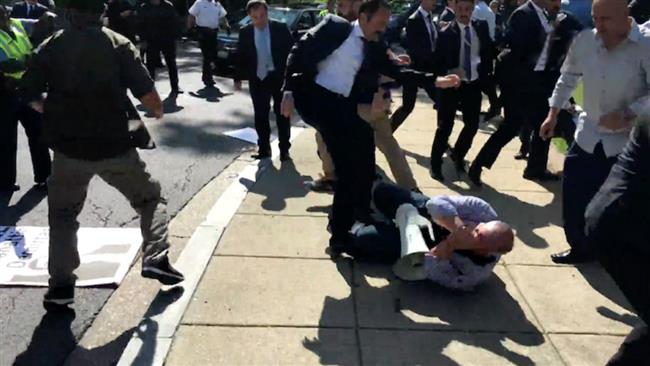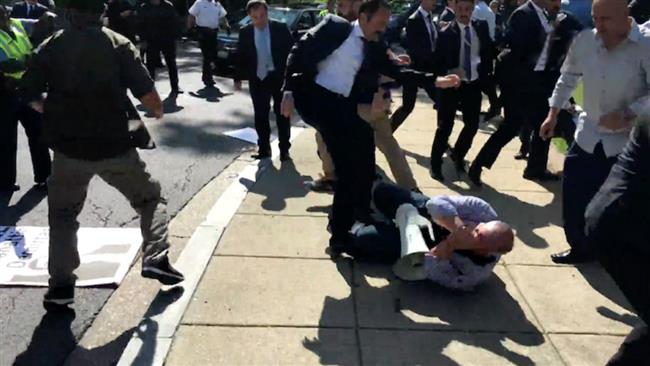 Germany has warned Turkish President Recep Tayyip Erdogan's bodyguards, who were involved in scuffles in Washington last month, not to set foot in Hamburg, where a G20 summit is to be held next month.
German Foreign Ministry spokesman Martin Schaefer said on Monday that foreign leaders were welcome to bring their own bodyguards to the July 7-8 event, but the law must be respected.
"I have reason to expect that these people (Turkish security agents), who have been incriminated by the American criminal justice (system) will not step onto German soil in the foreseeable future, including during the G20 summit," he said.
On May 16, Turkish security officials, including members of Erdogan's personal security detail, clashed with demonstrators outside the Turkish ambassador's residence in Washington.
The scuffles took place shortly after the first official meeting between Erdogan and his US counterpart, Donald Trump, at the White House.
The brawl, which left nine protesters injured, prompted strong reactions.
Police in Washington called the incident a "brutal attack" and issued arrest warrants for 12 of Erdogan's security officers in mid-June.
However, Turkey's Foreign Ministry summoned John Bass, the US ambassador to Ankara, and told him that the warrants were "wrong, biased and lacks legal basis."
The brawl "was caused by the failure of local security authorities to take necessary measures; that this incident would not have occurred if the US authorities had taken the usual measures they take in similar high level visits and therefore that Turkish citizens cannot be held responsible for the incident that took place," the ministry said in a statement.
On Sunday, Hamburg Senator Andy Grote told the Die Welt daily, "On our streets, only the Hamburg police have a say – and no one else. This includes foreign security forces."
Local newspaper Hamburger Abendblatt also reported that the Turkish Embassy had sent the German Foreign Ministry a list of 50 people, including security personnel involved in the Washington clashes, who were to accompany Erdogan to Hamburg.
Ankara's ties with Berlin soured following the 2016 military coup attempt and Turkey's subsequent crackdown on alleged conspirators.
The row deepened after Germany blocked Turkish ministers from holding rallies to secure a 'Yes' vote in the April constitutional referendum.
The dispute further widened when German lawmakers were barred from visiting troops stationed at Incirlik Air Base in southern Turkey.