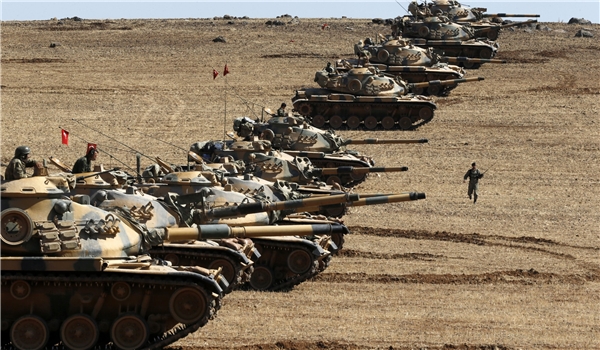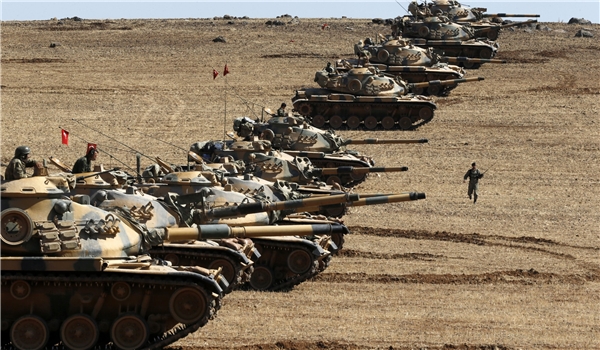 Turkey dispatched a large military convoy to Northern Syria to continue operations in the region as the Ankara-backed forces attacked the Kurdish-dominated Syrian Democratic Forces (SDF) positions.
The Turkish army dispatched its military convoy to Northern Aleppo after conflicts intensified between the Ankara forces and the SDF.
After the Kurds stormed the positions of the Ankara-backed Free Syrian Army (FSA) in Mar'anaz region South of Azaz, the Turkish Army's artillery and missile units shelled the positions of the Kurdish fighters in Northern Syria.
As dozens of Turkish army tanks arrived in the region to spearhead a fresh round of military operation aimed at connecting the Northern Aleppo pocket with the militant heartland in Idlib, Kurdish forces in the Efrin region are on high alert.
Turkish President Recep Tayyip Erdogan announced on Wednesday that Ankara is ready to launch a new military campaign similar to the Operation Euphrates Shield in Northern Syria.
"Presently, negative processes are underway in Syria. In case they lead to a threat to our borders, we will respond the same way as during the Euphrates Shield operation," Erdogan told the Russian Izvestia newspaper, as the tension between Ankara and Washington has risen over supplying arms to Kurdish fighters in Syria by the United States.
He added that Turkey would not allow establishment of a Kurdish state in Syria and was ready to carry out another large-scale military campaign if needed.
Turkey declared in August 2016 that its army has launched 'Euphrates Shield' military operation in Syria, as Ankara claims that it has begun to cleanse the ISIL terrorists from its border with the Arab country.
But, despite Ankara's allegation, Turkish military forces support militant groups in Northern Syria, and fight against Kurdish forces in the region.
Turkish officials have frequently stressed that operation 'Euphrates Shield' will continue to create a safe zone in Northern Syria.