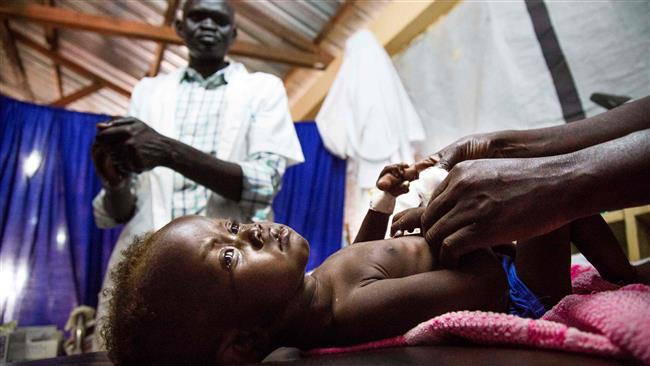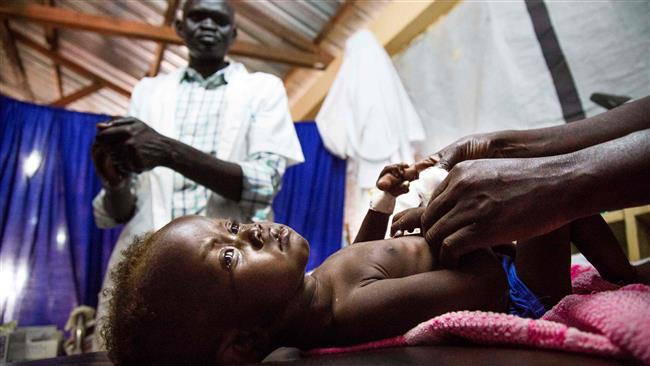 More than a million people are "dying of hunger" in South Sudan, which has been grappling with more than four years of violence, an official report says.
According to a joint report by the United Nations and the South Sudanese government released on Monday, some 1.25 million people in the country are facing starvation.
As of September, 6 million people — 56 percent of the population — were experiencing severe hunger, with 25,000 South Sudanese in humanitarian catastrophe in Ayod and Greater Baggari counties.
Both Ayod and Baggari are rebel-held areas where locals say the situation is dire.
"We ran out because of the hunger," said a resident of Baggari who recently fled with his family to the nearby town of Wau because they did not have anything to eat.
In February, South Sudan had declared famine in two counties in Unity State, where 100,000 people were on the brink of starvation, but thanks to early detection and a rapid response, a humanitarian catastrophe was avoided, said the World Food Program.
Humanitarian agencies blame the worsening situation in South Sudan on the ongoing conflict in the country, which is nearing its fifth year and has killed more than 50,000 people. The fighting has made food production impossible. The war prevents safe and easy distribution of food aid, as well.
They have warned that the war-torn country could once again plunge into famine in 2018.
"The widespread and extreme food consumption gaps … should make us all extremely concerned about the worst case scenario of famine in many locations across South Sudan in 2018," said Katie Rickard, country coordinator for REACH, a humanitarian research initiative that provided data for the report.
Rights groups are calling on all parties of the conflict to provide immediate and unfettered access to humanitarian agencies.