Iran
Middle East
Iranian President Felicitates Annihilation of ISIL, Blasts Arab League for Inaction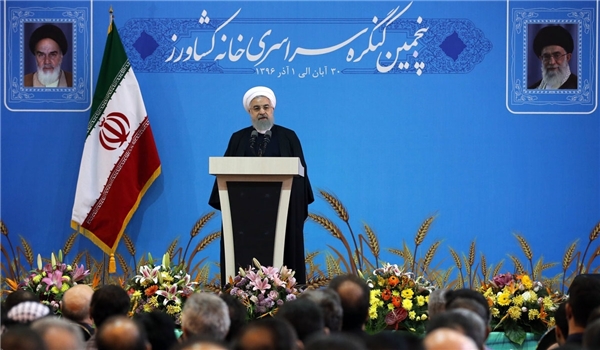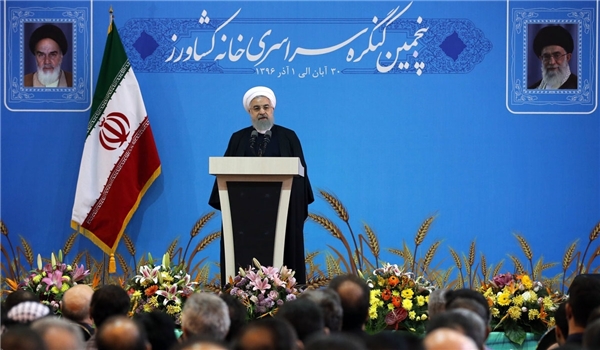 Iranian President Hassan Rouhani congratulated eradication of the ISIL terrorist group in the regional states, and lambasted the Arab League for its lack of reaction to the Syrian and Yemeni people's pains.
"I congratulate this victory to the Supreme Leader, the Islamic Republic's Armed Forces and Army, the Islamic Revolution Guards Corps (IRGC), the IRGC's Quds Force and our brother Brigadier General (Qassem) Soleimani (the IRGC Quds Force commander) who has made lots of efforts, to all forces who have made efforts and our diplomats who are trying to establish peace and tranquility in the region through the Astana conferences," President Rouhani said, addressing a forum in Tehran on Tuesday.
His remarks came after Commander of the IRGC Quds Force Major General Qassem Soleimani in a message to Supreme Leader of the Islamic Revolution Ayatollah Seyed Ali Khamenei on Tuesday announced the end of the ISIL control over Syria and Iraq.
Rouhani also expressed regret over the Arab League's silence on the pains of the Arab people in different regional states, and said, "When they (the terrorists) beheaded the Syrian people in Aleppo, where the Arab League was. That day that the Yemeni people were being bombed and are still being bombed, where the Arab League was."
"It is really regretting that a number of people who call themselves as Muslims and Arabs gather together (in the form of the Arab League) and voice regret that why an oppressed nation (the Yemeni nation) has been able to give a crushing response (to the Saudi aggressions by its missiles)," he underlined.
His remarks came after Arab foreign ministers who met in Cairo Sunday delivered a tirade of criticism against Iran and the Lebanese Hezbollah resistance group, claiming that Tehran was destabilizing the region.
They said they planned to "brief" the UN Security Council on Iran's destabilizing policies in the region, particularly its support for what they called as Shiite rebels in Yemen, with a view to submit at a later stage an anti-Iran Arab resolution.
The ministers said Arab telecommunications satellites would ban Iranian-financed television stations for what they claimed was their fomenting of sectarian and ethnic tensions and because they posed a threat to Arab security. It gave no details.
"We are not declaring war on Iran at this stage," Arab League chief Ahmed Aboul-Gheit said. "We have not taken a decision to ask the Security Council to meet, but we are just briefing the council and maybe the next stage would be for us to meet and call for a Security Council meeting and submit a draft Arab resolution (against Iran)."