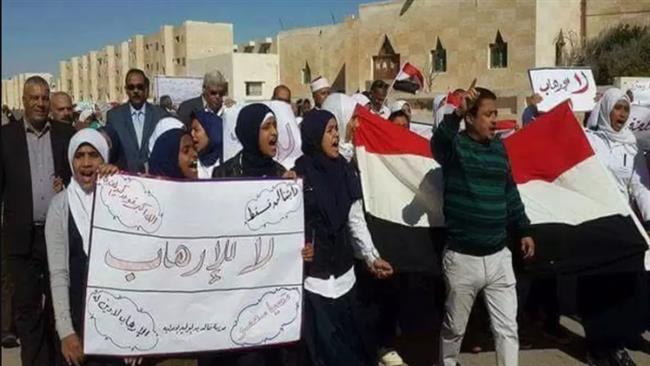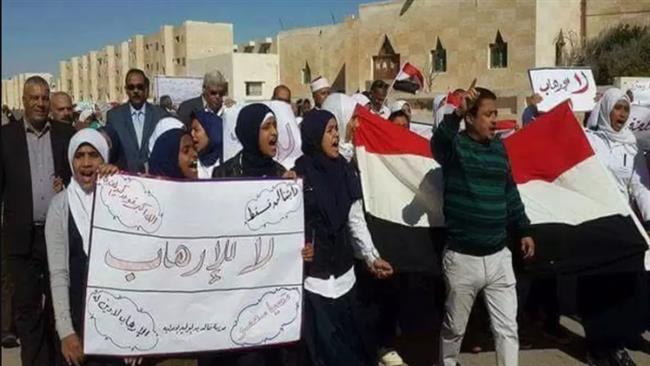 Thousands of students have staged a protest in Egypt's restive Sinai Peninsula to condemn a terrorist attack that hit a mosque and claimed the lives of hundreds of worshipers on Friday.
"No to terror," the students chanted in North Sinai on Sunday, calling the attackers "infidels" who are said to have been carrying Daesh flags during the carnage.
At least 305 people were killed and over 130 others injured in the shooting attack and bombing at al-Rawdah mosque in the town of Bir al-Abd near the provincial capital of el-Arish.
No group has claimed responsibility for the attack, but it had the hallmarks of the Daesh-affiliated Velayat Sinai terrorist group.
"This shows the national unity of the students who felt the terrible incident caused by the black terror, which does not distinguish between a Muslim and a Christian," protester Mustafa el-Zogabi, an official at the Education Ministry, said.
"Terrorism has no homeland and no religion. We are all one man in the struggle against terrorism," he added.
Residents of al-Rawdah village reportedly cleaned the mosque and removed blood stains from the prayer house and its vicinity and reopened its doors to worshipers as a message against terrorism.
"We have hoped that this Friday, we will pray again at the mosque," a resident said.
The assault shocked Egyptians because attacks on mosques are unusual in the country. Even more shocking was the fact that those targeted were Sunni Muslims who follow a creed of Islam which Takfiri terrorists such as Daesh claim to belong.
High school student Eid Ahmad, who was injured during the attack, recounted with tears in his eyes the trauma he underwent, saying the assailants suddenly "attacked us from everywhere".
"The worshipers outside and inside the mosque fell beside me, hundreds of dead and wounded, and I was also wounded, and the strange thing is that the infidels wanted to be martyrs, and they shouted Islamic slogans that they are far from."
Turkey mourns victims 
Turkey on Monday began a day of mourning for those killed in the Sinai mosque massacre, with the prime minister's office condemning it a "heinous terror attack" and flags flown at half-mast  until sunset.
Turkey has had tense ties with Egypt since the Egyptian military ousted president Mohamed Morsi in 2013, which President Recep Tayyip Erdogan called a coup.
Militants have taken advantage of the turmoil after Morsi's ouster in July 2013 and carried out a series of high-profile attacks, mostly claimed by Velayat Sinai.
Members of Egypt's Coptic Christian community as well as foreigners visiting the country have been targeted in the attacks, prompting the government to impose a state of emergency and widen a controversial crackdown which critics say is aimed at crushing dissidents.