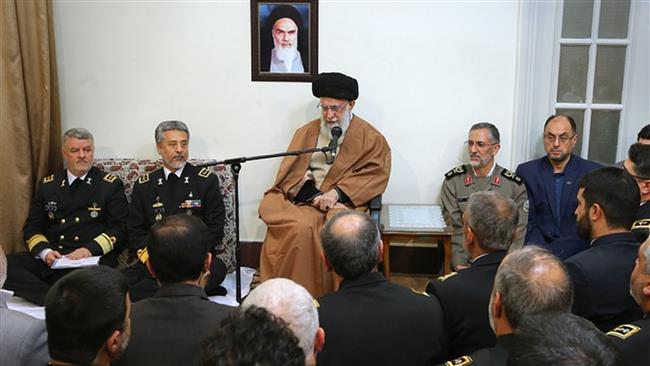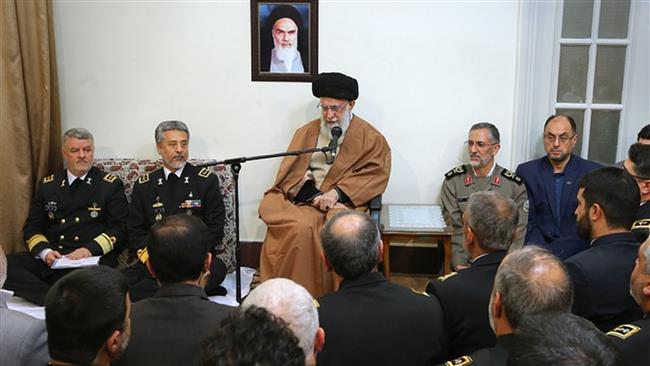 Leader of the Islamic Revolution Ayatollah Seyyed Ali Khamenei has hailed Iran's naval defense achievements, underlining the need for the Navy to speed up its progress in various fields,
Ayatollah Khamenei made the comments in a meeting with Navy commanders and personnel on Tuesday, on the occasion of the 37th anniversary of the national Navy Day, which marks the1980 victory over the Iraqi forces in the Morvarid (Pearl) operation during the imposed war.
The Leader said Iran's Navy is "on the frontline" of defending the nation, and has insight important regions and waters such as the Makran coastal strip and the Sea of Oman.
Ayatollah Khamenei also stressed the necessity of enhancing the Navy's combat readiness and the military equipment at its disposal.
The Leader further said the Navy has the impetus for progress, adding that the maritime force is "today far more advanced and capable than 20 years ago, but this level of progress in not satisfactory."
This trend of rapid progress should be pursued in all sectors "with high determination and morale," Ayatollah Khamenei added.
Prior to the Leader's comments, Navy commander Rear Admiral Hossein Khanzadi briefed Ayatollah Khamenei on the activities, achievements and objectives of the force.
On Monday, Khanzadi said that Iranian Navy is today self-sufficient in manufacturing surface and sub-sea vessels.
He also announced that the missile-launching Separ (Shield) warship would be unveiled in the coming days, adding that the vessel is domestically built.
The warship is of Peykan-class and roughly of the same size, but it is "faster" and "more advanced"
Separately on Monday, Chairman of the Chiefs of Staff of the Iranian Armed Forces Major General Mohammad Baqeri issued a message to commemorate the Navy Day.
He highlighted the achievements made by Iran's naval forces to safeguard national interests as well as their effective role in providing security to trans-regional and international waters, include the Gulf of Aden and the north of the Indian Ocean.
Baqeri also said the Iranian troops have managed to challenge the presence of arrogant powers, pirates and terrorist groups in the region.
He also noted that "convergence" and "coordination" among the naval forces of the Iranian Army and the Islamic Revolution Guards Corps (IRGC) has helped foil the "adventurist" plots in the Persian Gulf, the the Sea of Oman, and the Strait of Hormuz.