Europe
Saudi Arabia
Mother of DAESH, Theresa May, Heads to Saudi Arabia, Jordan: Brexit, Yemen, Daesh on Top of Talks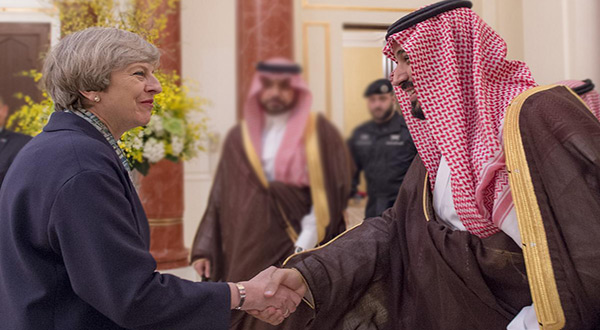 Theresa May has arrived in the Middle East as part of her efforts to strengthen links with other trading partners as Brexit approaches.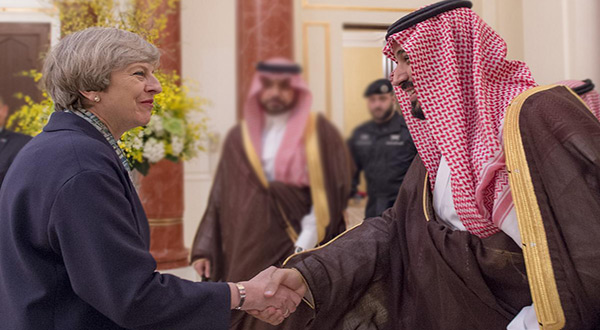 The Prime Minister will hold talks in Saudi Arabia and Jordan during a three-day tour, two countries she visited as recently as April.
According to sources, on the first visit, May is expected to raise the humanitarian crisis in war-torn Yemen, where Saudi Arabia is responsible for the suffering of the beleaguered population.
Saudi-led coalition is responsible for bombing hospitals, schools and wedding parties in its aggression against the most improvised country.
A "humanitarian catastrophe" was declared by the UN, with sanitation systems destroyed and at least 300,000 people infected with cholera.
May has rejected repeated calls to suspend British arms sales to Saudi Arabia, after more than £3.3bn worth of sales since the bombing of Yemen began in March 2015.
It is understood that May will raise the threat of famine, stressing the importance of humanitarian and commercial access to the country, including through the ports of Hodeida and Salif.
The Prime Minister will meet Crown Prince Mohammed bin Salman on Wednesday. The pair are also expected to discuss Saudi Arabia's diplomatic crisis with Qatar.
A spokesman for the Prime Minister said: "This visit demonstrates that, as the UK leaves the EU, we are determined to forge a bold, confident future for ourselves in the world.
"We must look at the challenges that we and future generations will face and build stronger partnerships with countries that will be vital to our security."
May will also set out Britain's support for Saudi Arabia's social reform programme, which includes increasing the number of women in work and access to culture.
On Thursday, May will hold talks with Jordan's King Abdullah and Prime Minister Hani Al-Mulki on how Britain can support the country's economy.
She will see the impact UK support can have on creating jobs and opportunities in the region by meeting members of the Arab Women's Enterprise Fund.
During her last visit she announced that military trainers would be sent to Jordan, which borders Syria, to help the nation's air force eliminate Daesh [Arabic Acronym for the terrorist "ISIS"/"ISIL" group].
So far, four major training exercises have taken place in Jordan, with more than 3,000 UK service personnel involved.
Rounding off her tour May will deliver a speech on the subject of supporting Jordanian economic reform to parliamentarians, business leaders and the media.
The spokesman added: "It is clearly in the UK's security interests to support Jordan and Saudi Arabia in tackling regional challenges to create a more stable region, and in delivering their ambitious reform program to ensure their own stability.
"Jordan's continued security, stability and economic sustainability are central to a peaceful future in the Middle East and are clearly in our mutual national interests."