Syria
Syrian negotiators arrive in Geneva for new round of peace talks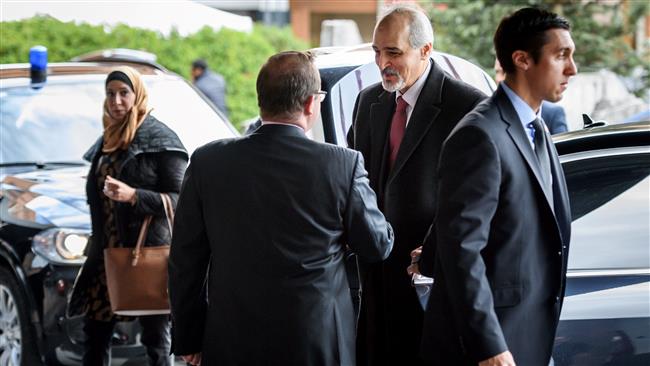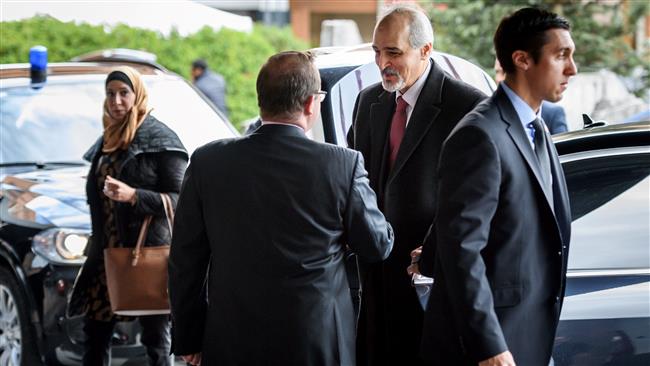 The Syrian government's negotiation team has arrived in Geneva to join United Nations-backed peace talks with the Saudi-backed opposition's representatives to end the years-long conflict in the Arab country.
Headed by Syria's UN ambassador and chief negotiator, Bashar al-Ja'afari, the delegation touched down in the Swiss city on Wednesday, a day after the talks began.
The intentional delay came after the opposition's call for Syrian President Bashar al-Assad's removal as a prerequisite for the negotiations.
The UN special envoy for Syria, Staffan de Mistura, said the talks provided both sides with a chance to negotiate directly for the first time.
"We are going to offer it. We will see if this takes place. But we will be offering that," the UN official said after meeting the opposition's representatives on Tuesday.
They told the UN envoy during the closed-door meeting that they remained ready for face-to-face talks with the government, something sources say Syria has not yet accepted.
Defying calls for moderation, Nasr al-Hariri, the head of the opposition's so-called High Negotiations Committee (HNC), claimed that his side believed in Assad's ouster as a "precondition."
This is while de Mistura had stressed on Monday that no "preconditions by either party" would be accepted for the talks.
Hariri was selected as the chief HNC negotiator during a conference in Saudi Arabia on Friday, succeeding Riyad al-Hijab, who quit shortly before the opposition forum in Riyadh.
De Mistura had earlier said he wanted the parties to focus on Syria's new constitution and UN-supervised elections.
He expressed hope that the Geneva talks would eventually enable the warring sides to launch a "genuine" political process to end the six-year battle, which has killed hundreds of thousands while displacing millions more.
There has been little progress over the past seven rounds due to opposition's insistence on Assad's removal.
In a meeting with Russian President Vladimir Putin in the Black Sea resort of Sochi on November 20, the Syrian head of state said he was "ready for dialogue with all those who want to come up with a political settlement."